As St. Patrick's Day approaches, local restaurants are preparing to entice potential customers with special discounts and gourmet food. The holiday celebrates the memory of Saint Patrick, the patron saint of Ireland who is credited with converting Ireland to Christianity during the 400 ADs. The day of his death, March 17, 461 AD, became a national holiday and was first celebrated in America in 1762 in New York City.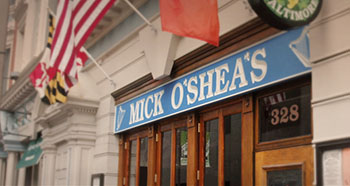 Practitioners of the holiday celebrate a parade on the Sunday before St. Patrick's Day, March 11, and then the titular day itself on the 17th of March. Below are a list of bars and restaurants which will give students the biggest bang out of their buck to take part in the celebrations.
RESTAURANTS IN MARYLAND:
Kelsey's Irish Pub: Kelsey's pub has a variety of events planned all month prior to St. Patrick's Day, all of which are detailed on its site, http://www.kelseysrestaurant.com/. On the day of the parade, Kelsey's will host its annual "family day," where brunch will be served beforehand. Afterwards there will be live music by Baile Mór, along with food and drinks for guests. On March 17, Kelsey's will start off at 10 AM with $3 Guinness pints and Irish Coffees until noon. There will be performances by EC Fire Department Bag Pipers, and live music by Brian Farley and Qilo. The average price for food per person is $12-$13, and the event is first-come, first-serve only. 8480 Baltimore National Pike, Ellicott City, MD 21043.
Tír na nÓg Irish Bar & Grill: Tír na nÓg will have front row tickets to the Baltimore St. Patrick's Day Parade. On St. Patrick's Day, the restaurant will have a limited menu available which will include Irish favorites such as corn beef, beef stew, and shepherd's pie. Beer will be accompanied by traditional Irish dancers, and two live bands will play in the day and the evening. The bar and grill is located at 201 E Pratt St, Baltimore, MD 21202, and is 28 minutes away from Stevenson.
The James Joyce Irish Pub and Restaurant: James Joyce will start the day off at 7 a.m. with Guinness, live music, Irish dancers, and bagpipers. The pub has three different singers booked for the celebrations: Sean Pelan from noon to 3:30 p.m., Brian Farley from 4-8:30 p.m., and Brandt Bunn from 9 p.m. to 1:30 a.m. on the day of the parade. Food costs an average of $17 per person, and is accompanied by $3.17 pints of Guinness. The pub is located at 616 S President St., Baltimore, MD 21202, and is 32 minutes away from Stevenson University.
Mick O'Shea's Irish Pub: Mick O'Shea's will have front-row seats to the Baltimore parade, where Irish step dancing, pipe bands, and marching bands will perform. In addition, Mick will offer brunch beforehand and a live performance by the Gaelic Mishap. On the 17th, festivities include a traditional Irish breakfast from 10 a.m. to 3 p.m., with live music will be performed by the Donegal X-Press. Average price per person is $7-$20. Food includes traditional Irish dishes such as corn beef, cabbage, and shepherd's pie, accompanied by beverages including Guinness shots. The pub is located at 328 N Charles St, Baltimore, MD 21201, and is 30 minutes from Stevenson University.
Bar Louie: Bar Louie will have Irish food, drink specials, breakfast games and giveaways, and entertainment on St. Patrick's Day. The bar is located at 10080 Reisterstown Road, Suite 20, Garrison, MD 21117, and is five minutes away from Stevenson University.
Green Turtle: The Turtle will be serving $4 green beer all day, as well as $5 Jameson, from 1-9 p.m. There will also be a performance by a live band. The Turtle is located at 2 Restaurant Park Drive, Owings Mills, MD 21117, and is 10 minutes away from Stevenson University.