Students and faculty from the SU chemistry department found healing after spending two weeks in Ecuador studying herbal remedies over the winter break.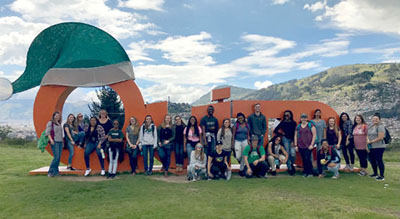 CHEM 206, offered as a three-credit, SEE-certified scientific laboratory class, sponsored the trip, which included 16 students and two faculty members. The class, entitled "From Folk Healers to Pharmacies: A Study in Herbal Medicines and Remedies," sought to accomplish its goals through a hands-on field learning experience.
This trip was done in collaboration with the University of San Francisco de Quito, an institution located in Quito, Ecuador's capital, which provided the Stevenson contingent with additional resources.
Students were given two assignments: they were required to log a journal of all their findings while in Ecuador and were also asked to partner up to present a specific herbal resource to the class when they returned. The medicines studied on the trip were exclusively regional, and students were tasked with understanding the chemistry and philosophy behind the remedies.
However, the trip was more than a scientific experience; it was cultural as well. In order to completely understand the types of medicines, they also needed to understand the culture in which they were being distributed. Professor Tim Dwyer, a biochemist in Stevenson's chemistry department and one of the trip's faculty leaders, said he wanted to give students a chance to experience a different culture, and how it uses their different types of herbal medicines. For students, this ranged from interacting with shamans, healers found prominently in Ecuador, to using some of these remedies themselves.
Much of the field research took place at the Tiputini Biodiversity Station, located on the Tiputini River in the Amazon rainforest; the center's position allowed students to find their own adventures in discovering diverse wildlife. It could take up to six hours to get to a site, consisting of flight time, two canoe transfers, and a bus trip– and that doesn't even include the last hike to reach the station. However, between the families of otters that kept the students company, or the 100-foot-high trees that made up the skyline, their time was evenly divided between study and leisure. The Stevenson contingent also went to other locations, including the botanical gardens in Quito, and the Maquipucuna Reserve and Cloud Forest.
Linguistic and cultural challenges that arose were handled easily by the Stevenson team. Through their partnership with the University of San Francisco de Quito, Stevenson's faculty and students always had a local tour guide. Furthermore, some students who went were comfortable in Spanish, which proved helpful when interacting with locals. Even those who weren't as fluent still engaged and the people of Ecuador responded kindly.
In addition to learning the cultural remedies of herbal medicines, the travelers also got to enjoy amazing experiences. Student Morgan McCluskey Wirtz said she would never forget about swimming – or rather, floating – down the Tiputini River during one of their learning excursions, something she was hesitant to do.
"When it came time to decide whether or not to jump off the boat into the water, it was one of those now or never moments that I'm so glad I was able to experience," she said. As a biochemistry major who plans on going the pharmaceutical route with her career, she mentioned an appreciation for the understanding she's gained regarding holistic medicines.
"While using the remedies we were taught directly may not be something I can use as a pharmacist, the ideas behind them could potentially be," she said
To anyone who's considering going on a study abroad trip, McCluskey Wirtz added that students should not be afraid to try something they're unsure about. "You'll only get one chance at a trip like this, and you don't want to miss any opportunity you have while being there."
Students interested in learning more about studying abroad or any other trips the School of the Sciences has planned, students can contact the organizers of this trip,  Kaitlin Bailey, lecturer in chemistry, or Dwyer, to request information through campus email and stay tuned by checking the SU International & Off-Campus Study website, http://studyabroad.stevenson.edu.
Additional: Two other classes participated in travel to Ecuador and were hosted by the Universidad San Francisco de Quito during the Winterim break: Education 350 and Service-Learning 101. These two courses consisted of an additional 7 students and 2 faculty leaders.