A new club on Stevenson University's campus called the Food Recovery Club has recently started as of February 20, 2018. This club's purpose is to recover food to serve to those in need in the Owings Mills community.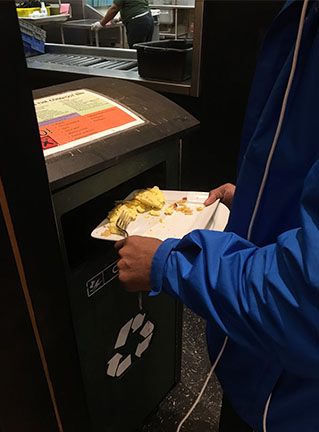 The Food Recovery Network itself is a non-profit, environmental and humanitarian organization through which students across the nation join together to help diminish the recurring issue of world hunger. The Food Recovery Network serves as an outlet for  those who want to serve others by recovering food and giving it to those in need.
The Stevenson connection started with students Lydia Hillman, Autumn Mento, and Kaujae Blackwood, and the director of Center for Environmental Stewardship, Dr. Kimberly Tucker.
"Our mission is to end food waste and hunger in our community," said Hillman, president of the club. "The establishment of this organization will give students the opportunity to make a positive difference on campus and in their community."
Volunteers in the Food Recovery Club will not only spread the word to prevent world hunger, but also aid in the transportation of food from Stevenson to local shelters in Baltimore. The club's current partner agencies are all within close distance to the Owings Mills campus. Partner agencies include Sarah's Hope at Hannah More, a women and family shelter, and INNterim House, a local homeless shelter.
Not only does the club provide a way for those interested to give to the community, but it is also inclusive to all students at Stevenson, both commuters and residents, as well as faculty and staff.
Signs have been posted in Rockland for information and sign ups. The Food Recovery executive board and volunteer leaders are working on promotions for the club. Volunteers and board members will also advertise events through social media sites such as Instagram and Facebook.​
Club meetings are held in Rockland, and volunteer meetings will be in the Solve Center at Owings Mills North where students can volunteer to help transport prepared or packaged foods. ​Recoveries are held every Thursday or Friday evening twice a month; volunteers can sign up for time slot preferences for these events.
Members of the club and their leaders hope to create a substantial impact on Stevenson's community.
"It was hard to know that our campus dining throws a lot of edible food away, when so many people are in need of it. I wanted to include Stevenson University in a sustainable movement to end food waste and hunger," said Hillman.
For food safety training sessions, students can sign up by emailing [email protected]. The Food Recovery Club is currently in need of people who can volunteer their personal cars to transport food donations to the partner agencies located four to six miles away from the Owings Mills campus.
To learn more about the Food Recovery Network itself, students can visit https://www.foodrecoverynetwork.org or email Hillman for further information about the club.