A career fair for psychology and human services majors will be held in the Rockland banquet room on March 29, 2018, from 4-6 p.m.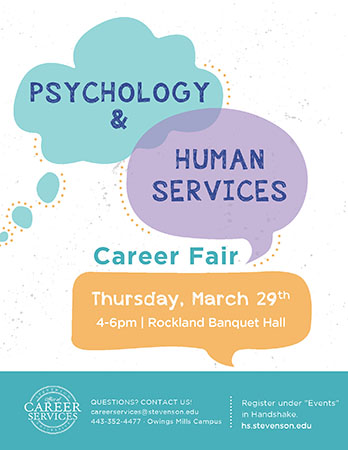 The Office of Career Services, in collaboration with the psychology and human services departments, expects approximately 20 employers who will be offering part-time, full-time, and internship opportunities, according to the Events and Marketing Coordinator Matt Seiler.
Seiler said the Psychology and Human Services Career Fair will be unique. Instead of formal lines of tables like at most Stevenson career fairs, this fair will use round tables. This will allow students to sit down at the tables to have more in-depth conversations with employers.
"As a psychology minor, I am excited to go to the Psychology and Human Services Career Fair," said sophomore Kayleigh Russell. "As a nursing major, it will be nice to connect with employers like Sheppard Pratt to see what opportunities they have that will incorporate my major and minor."
Career Services recommends wearing professional attire to every career fair. The staff advises students to bring paper copies of their resume and be prepared to sit down with employers, said Seiler. Although the companies in attendance are focused on psychology and human services students, Seiler believes that students of any major should attend the fair as it's good practice interacting with professionals.
The University of California, Berkeley's website recommends coming prepared by researching the attending companies before visiting career fairs. Students should allow themselves adequate time by coming early, prioritizing employers of interest, and practicing and using an introduction with a career pitch or elevator speech. It's also a good idea to ask the representative for a business card and send a thank you email afterwards.
The companies and organizations that will be represented at the career fair include the following:
Chesapeake Human Resources Association
Kennedy Krieger Institute
Girl Scouts of America
The Y in Central Maryland
Board of Child Care
Little Leaves Behavioral Services
Partnership Development Group
Recovery Centers of America
The Mentor Network
SEEC
The Shafer Center
St. Coletta of Greater Washington
Target Community and Educational Services, Inc.
Verbal Beginnings, LLC
Way Station, Inc.
More information about these employers is available on Handshake.