With winter's indoor track season finishing up, the outdoor track season is quickly approaching for the Mustangs.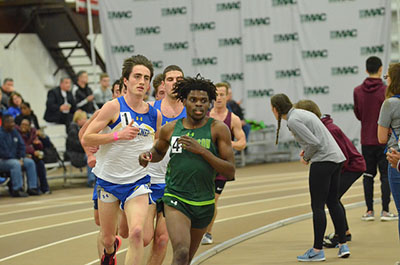 This year is a highly anticipated season for the team. The indoor season finished off very well for both teams, and now they hope to bring the same momentum to the outdoor season.
Early in March, the team wrapped up conference championships with the men's team winning their first-ever MAC track and field championship. The women's team also finished well in second place.
At the ECAC Championships the success continued as the men's team won its first-ever ECAC Divison III Indoor Track and Field Championship title. The women's team also fared well, placing fourth, their highest-ever finish in the standings.
Accolades keep coming in for the indoor team. Coach Erick Camodeca was named Mideast Region Coach of the Year. The Mustangs also earned eight total U.S. Track & Field and Cross Country Coaches Association selections. Sophomore Kendal Belser earned two All-Region selections for the 4×400 relay and for the 200-meter dash. Freshman Dimeon Wirght received one for the long jump. Wright also qualified for the NCAA Indoor Championships. The Mustangs also picked up three more All-Region awards for the 4×400 relay. Not to be outdone, the women had seven All-Region honors. Sophomore Danika Ali earned two All-Region honors for the shot-put and weight throw.
Coach Erick Camodeca makes it clear that the goal is to win outdoor championships as well.
"Our team is well balanced," said the coach, and will focus on the men's sprinters, jumpers, and distance team. As for the women, the throwers, sprinters and jumpers will be important. Athletes on the men's side including junior Langston Gash, freshman Maurice Johnson and sophomore Patrick Watson, are the three to focus on for the upcoming season. As for the women's side, sophomore Kimberly Hammond, sophomore  Dyonne Hicks, and freshman Rachel Panek, along with a few others, are also key factors to a successful season, said Camodeca.
"Our main goal is to win our first-ever outdoor championships on both the men's and women's side. We also want to send at least three men and three women to NCAA national championships. That is something that can be very good for our program,"  he said.
After the success of the indoor track team, there is plenty to be excited about as the season begins for the Mustangs on March 16 at the Black and Gold Challenge at the University of Central Florida.
Sports editor Dave Steinwedel contributed to this article.