Stevenson University's second Late Night Against Procrastination event will take place on the Owings Mills campus in the Claire Moore Room on Wednesday, April 4 from 7-11 p.m.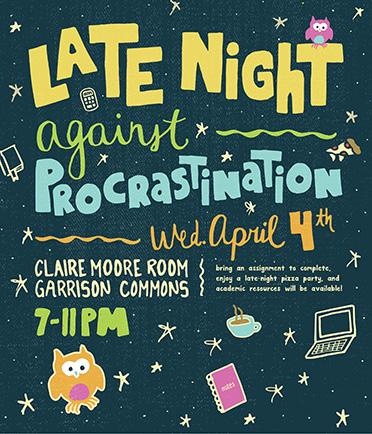 "The purpose of the event is to showcase all of the many different resources available here to help students be successful," said Sara Godbee, librarian.
The main focus of this year's event will be handling stress, especially when it comes to studying for final exams. The event will also include stress-reducing crafts, games and a late-night pizza party. Students are encouraged to bring in their stress-inducing assignments, and come and go as they please.
Students who attend will have the opportunity to receive help on assignments, learn how to properly cite sources and conduct research, practice time-management skills, improve their study habits and perform stress-relieving exercises.
DE-STRESSING ACTIVITIES PLANNED
The event will include different workshops that focus on several objectives, including writing help, de-stressing activities, citation/research tools and calendar making. During the event, multiple group relaxation breaks from the workshops will occur.
"Students will be able to take away the importance of taking short breaks while completing a long assignment or studying for an exam," said Jenna D'Onza, assistant director of Student Activities.
Junior nursing student Daja Nasib plans to attend the event along with her friends because it will provide them an opportunity to learn about Stevenson's academic resources.
The library-hosted event is held in collaboration with staff from different departments, the Office of Student Success, the Academic Link, peer educators and the Office of Student Activities.
According to the American Psychological Association (APA), between 80 and 95 percent of college students procrastinate on their schoolwork. The APA also noted that the main reasons students procrastinate include, but are not limited to, are self-doubt, expectations and fear of failure. In fact, the article notes that there are students who believe they work best when pressured.
PROCRASTINATION HURTS
However, there has been no indication that procrastination makes work any easier. Another article from studyright.net found that procrastination makes people work harder. Starting early and taking short breaks helps the mind memorize material more effectively. Waiting to complete assignments or study for exams results in cramming, which is not only time consuming, but also a lot for the mind to take in because the brain is tasked with quickly learning material that may easily be forgotten.
According to the Association for Psychological Science, a number of studies on procrastination over the last 20 years have shown that students who procrastinate not only earn lower grades, but also endure higher amounts of stress and illness.
"The Late Night Against Procrastination event lets the students know that the staff cares about their success and well-being. The event is all about the students," said Godbee.
For more information about the event, visit the Stevenson Portal page or contact Godbee through campus email.