Sim Lab offers real-world experience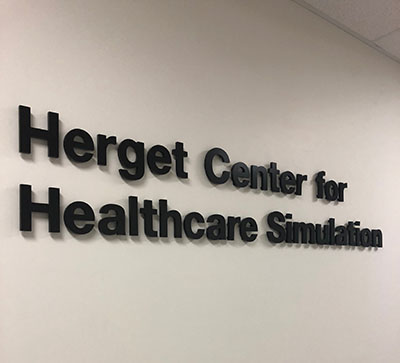 The Herget Center for Healthcare Simulation at Owings Mills North offers specialized resources for nursing students and others.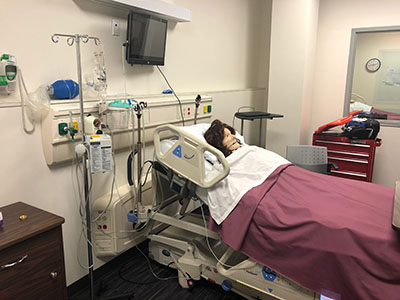 The nursing resource center has five rooms that are modeled after hospital spaces, fully equipped with all of the tools that nursing students will use after graduation. Students are placed in these rooms to experience clinical situations that they may actually see in a hospital.
There are pediatric and adult mannequins on which students can gain experience. The mannequins talk and have heartbeats and pulses, so that students can learn how to perform different procedures. Students are able to practice inserting feeding tubes, IV lines and catheters, and can practice injecting.
Transfer equipment is also available for students to practice with, including wheelchairs and stretchers. The mannequins weigh around 80 pounds, which allows students to get the experience and strength to lift real patients.
Jeff Wells, manager of the Simulation Labs, said, "We generally name all of our mannequins just to personalize the experience."
The labs include machines that monitor heart, oxygen, and fluid levels. There are four control rooms through which professors can monitor the students in simulation without actually being in the room. There are two pediatric rooms and two adult patient rooms.
Two of the rooms have audio/visual capabilities so that video and sound can be recorded from the simulation. This is useful for playing back data when grading students and catching things that may have been missed in the live clinical experience. "There are never two days where you experience the same thing," said Wells, who also mentioned that while this semester is a busy one, the next one will be even busier for students.
Hollis Caswell, lecturer in the Simulation Lab, was a neonatal nurse before she came to teach at Stevenson. She has the experience to help students with the practice of deliveries. One mannequin, named Victoria, can give birth. Caswell explained that this offers a totally different type of learning for students because Victoria comes with different bellies, even one for practicing with postpartum experiences. When students have to come in and assess Victoria, they can listen to her pulse, lungs, and can even check her fundus. They treat her as if she is a real patient who just gave birth.
Students are always welcome to stop by the simulation labs during formal tours, including Open Houses. Students who are interested in the labs can reach out to either Wells or Caswell for more information.
Donate to Stevenson Villager
Your donation will support the student journalists of Stevenson University. Your contribution will allow us to purchase equipment and cover our annual website hosting costs.