Women's lacrosse nearing conference play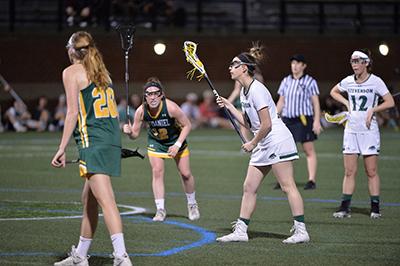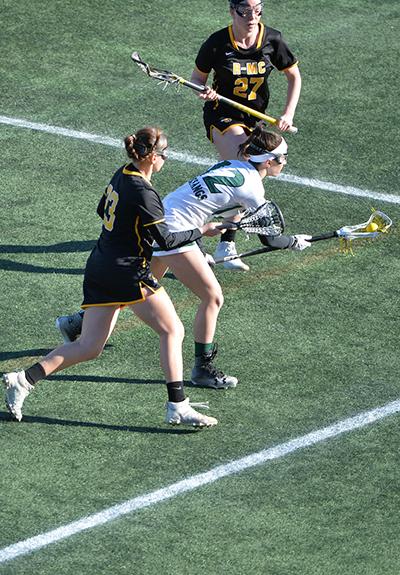 The Stevenson University women's lacrosse team continues their season with hopes of a successful second half. With seven games played and nine yet to come in the regular season, the Mustangs are currently 1-6. The team has yet to play any conference games, the first of which is scheduled for March 29 at 4 p.m. against host Alvernia University.
The first half of the season has been comprised of games meant to challenge the Mustangs.
Coach Kathy Railey explained, "I think (winning)  has everything to do with focus, fitness and physical toughness. We are really trying to get our offensive game to the point of being so aggressive, confident and tough that no defense can stop us."
The team started their season on Feb. 17 with an 11-10 loss to Salisbury University. Five out of the 10 goals were scored by sophomore attack Kiely Bunce. Stevenson has scheduled its opening night against the Seagulls for three consecutive years, but have not taken a game from Salisbury since 1997.
A week after playing the Seagulls, Stevenson lost 21-3 to top-ranked and defending national champions Gettysburg College on Feb. 24. Goals by sophomore midfielders Carly Bowes and Mallory Davila and junior attack Dana Stevens, while Gettysburg's goals came from 11 different players.
The Mustangs grabbed their first win on March 3, 12-11, against Randolph-Macon College. Bowes led the team with 4 goals, receiving assists from Bunce and freshman attackers Lindsay Seipp and Shannon Snyder.  "I think we were smart in that game, controlled the clock a bit better and played pretty solid defense," said Railey.
Against Washington College on March 7, the Mustangs lost a 10-9 nailbiter in overtime. Bowes and Bunce each had three goals in the effort, with Davila adding in two. Stevenson controlled the draws 13-8, and went 2-4 in free positions.
With all of the team's conference games scheduled for the second half of the season, the challenging start of the season provided the Mustangs with preparation in hopes of winning the Middle Atlantic Conference (MAC) Championship. "Our goal is to sweep the conference. We scheduled a lot of tough games against the top teams in the country to be ready for in-conference action," said Railey.
During the spring break week, the team traveled to California, where they lost to 22nd-ranked Claremont-Mudd Scripps 12-4, with a season-high 41 turnovers and only nine shots on goal. However, the Mustangs again controlled draws, and sophomore Mack Ferguson had a career-high 16 saves.
Against Chapman University, the Mustangs dropped a non-conference game 11-9 to the Panthers despite Bowes' fourth three-goal game of the season. Chapman held the Mustangs scoreless for the last 20 minutes of the game, causing a total of 23 turnovers.  According to gomustangsports.com, senior Jamie Bittner won five draws, had two caused turnovers and two ground balls and an assist. Bittner now has 75 career draw controls, placing her into the top-10 in program history.
The Mustangs' next home game will be on March 25 at 1 p.m. against Buffalo State. On April 4 the team will host their first home conference game at 7 p.m.
Donate to Stevenson Villager
Your donation will support the student journalists of Stevenson University. Your contribution will allow us to purchase equipment and cover our annual website hosting costs.