Holidays often provide an excuse to spend hours in the kitchen baking delicious treats, and cookies are one of the most popular desserts to make. They're perfect for any occasion, as they can be a grab-and-go dish at a potluck, or dressed up for a fancy dessert bar.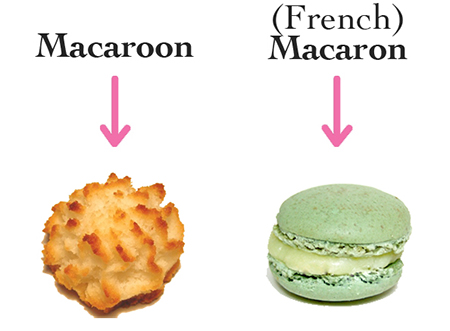 Another benefit is that they can be made in bulk, which means the same amount of work for a much larger yield. Most importantly, cookies are a universal crowd-pleaser; rarely will you find anyone who isn't pleased with a cookie in hand.
With Easter and Passover around the corner, I have decided this year to treat my loved ones with macaroons and macarons.
Wait, aren't those the same thing? No, they are not, and here's where a fun and educational lesson comes in.
Macaroons and macarons both originated from the same cookie in Italy, known as amaretti, which is made with almond paste. According to Joseph Erdos from Food Network, this recipe was adapted by some inventive bakers who did some experimenting by swapping the almond paste for shredded coconut or ground almonds. The shredded coconut treats are known as macaroons, which are a popular cookie in the Jewish community for celebrating Passover because it's an unleavened recipe. French macarons have an almond meal base and are normally sandwiched together with ganache, buttercream, fruit curd, or other sweet, dreamy fillings.
Other than the one ingredient swap, the cookies have remarkably similar recipes. Both have a meringue base created from egg whites, are sweetened with a little sugar and are baked in the oven. But they taste and appear entirely different, making them perfect to celebrate two distinct holidays and cultures.
To make the macarons a little more festive, I recommend dying them in pastels and using brown food coloring after they are baked to speckle them like robins' eggs (instructions and pictures can be found at The Seaside Baker). You can also disregard the traditional circular design and pipe them instead egg shapes, then decorate them like Easter eggs. Make sure to fill them with a bright, fruity buttercream, sweet curd, and fresh fruit to give them a spring flair.
Macaroons   (recipe adapted from The Kitchn)
Ingredients:
3 cups sweetened shredded coconut
4 large egg whites (fresh, not packaged – on the rare occasion, packaged egg whites will yield the same results, but usually, you are left with a stubborn bowl of salmonella that won't rise into a meringue no matter how long you beat it)
½ cup granulated sugar (sifted)
1 tsp vanilla or almond extract (I recommend using vanilla extract and if you want a hint of almond, add a touch of almond paste to the recipe)
¼ tsp salt
Directions:
Place an oven rack in the bottom third of the oven and preheat to 350 F.
Toast the coconut. This is not optional. The flavor and texture of the macaroons will not be the same. Spread the coconut on a baking sheet and toast for about 5 minutes, until just barely beginning to brown. Watch it carefully – coconut burns very easily, and burnt coconut does not taste good. Let cool before using.
Whisk egg whites, sugar, vanilla, and salt in a mixing bowl until completely combined and the mixture is frothy.
Combine coconut and egg whites and stir until coconut is evenly moistened.
Line the baking sheet with a silpat or parchment paper. (Do not use foil or wax paper, and do not leave the baking sheet just sprayed with oil). With wet hands to prevent sticking, shape the mixture into balls about 1 ½ inches in diameter. Space them an inch or so apart on the baking sheet (the cookies won't spread much, if at all).
Bake the cookies for 15-20 minutes, or until golden.
Cool the macaroons on the baking sheet for 5 minutes, then transfer to a wire rack to cool.
Macaroons can be stored in an airtight container for up to a week. If you are making the macaroons for Passover, make sure all of your ingredients are kosher. For some fun variations, you can add fresh lime zest or dried fruit to the recipe, or drizzle the baked cookies with chocolate for some extra sweetness.
For macarons (as with all gluten-free and meringue-based recipes), your best results will come from measuring the ingredients with a kitchen scale rather than with a measuring cup. Kitchen scales are relatively cheap, but if you don't have one and are pressed for time, don't fret. Just make sure you measure the ingredients precisely for the tastiest and most eye-appealing meringue.
Macarons     (recipe adapted from The Seaside Baker)
Ingredients:
90g egg whites (roughly 3 egg whites) (once again, make sure you use fresh eggs)
25g (2 tbsp) granulated sugar (sifted)
1 tsp vanilla extract
200g (1 ½ cups + 2 tbsp) powdered sugar
110g (3/4 cup) almond meal
Gel food coloring of desired color (use gel food coloring to avoid altering the recipe consistency with extra liquid)
Your choice of filling
Directions:
Add egg whites and food coloring to the bowl of a stand mixer and beat on medium until foamy. Turn mixer on low and gradually add sugar and extract. Beat on high until hard/stiff peaks form. You should be able to turn the bowl upside down over your head and still have a bowl of egg whites and a celebration-ready hairstyle (please, test this slowly).
Sift together almond flour and powdered sugar in a separate bowl. Gently fold into egg white mix, careful not to deflate the meringue, until fully incorporated.
Fit a pastry bag with a round tip and fill with the mixture. Pipe 1 ½ inch rounds onto a cookie sheet lined with parchment paper or a silicon mat. Rap the tray on the counter a couple times to release air pockets and allow to sit for 30 minutes to an hour. This enables the shell to harden, creates the "foot" while baking, and ensures you don't get a hollow shell of a cookie when they are finished.
Preheat oven to 300 F. Bake for 18-20 minutes, rotating the pan halfway through.
Allow to cool before filling.
Macarons are relatively simple to make. However, as Amrita Song from Honest Cooking notes, macarons can be a little finicky. To help you make sure your cookies are a success, check out these ten tips from Honest Cooking to help you make the perfect, Instagram-worthy treats.
Happy baking!