Students spend spring break at SXSW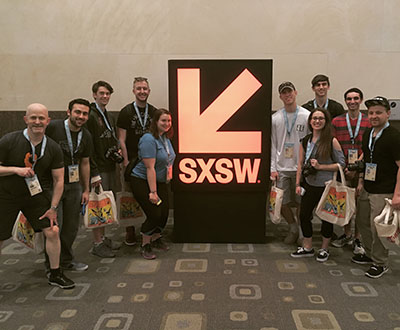 A professor of film invited students on a trip to a film festival in Austin, Texas over this year's spring break, March 9-17.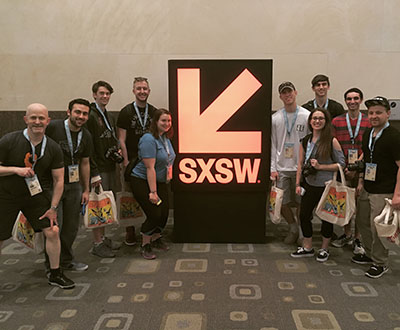 Christopher Reed's FMI 331: Major Directors/Movements: Film Festivals and Media Marketing students attended the film festival as a part of the course's focus on marketing and the film festival circuit. Students experienced movie screenings, panel discussions, virtual reality booths, music events and more.
Matt Patti, one of the student attendees, described the trip to the festival as an opportunity to see what a film festival is like and how it works. This year the class had nine students who attended the festival. The class needs a minimum of eight students to attend next year's festival.
The film festival, known as South by Southwest (SXSW), is an interactive festival that showcases interactive media such as films, tv shows and music. The festival started initially as a music festival in 1987. However, the event's organizers were vigorously inclusive on art and ideas, that they almost immediately began accepting entries for films and tv shows in the following years.
The dates change every year to coincide with the  University of Texas at Austin's spring break. Often times, though, the festival dates manage to coincide with Stevenson's own spring break schedule. Therefore, Stevenson students have been able to attend nearly every year since 2015.
The film festival has been noted for the high caliber and diversity of the films presented. Students met fellow filmmakers and talked to some directors of the films they saw.
They also attended nearly 25 screenings over the week, most of which have yet to be released to the public, including Ready Player One by Steven Spielberg (due for wide-release March 30), Blindspotting by Carlos Lopez Estrada (due for wide-release July 27), and more.
The students also saw the world premiere of a film by Stevenson alumni, Nick Kovacic '06, entitled Agave: Spirit of a Nation. The film is a documentary directed by Kovacic and Matthew Riggieri. It takes a look at the homeland of mezcal and tequila, two regional distilled alcoholic beverages made from plants, and how they carry a culture.
The trip, however, was not all about learning marketing techniques and getting to see films early. Christopher Reed also gave the students assignments, including designing a schedule, uploading top five screenings from the festival, and creating a five-minute documentary film about their experience at the festival. The class is held on Mondays from 2-4:50 p.m.
Reed described the trip as a great networking and learning opportunity for film students who get to see what the current trends are in the film industry, adding that the festival is "as much a market as it is a festival which is filled with panels and meet-ups, film screenings and keynote speakers."
Donate to Stevenson Villager
Your donation will support the student journalists of Stevenson University. Your contribution will allow us to purchase equipment and cover our annual website hosting costs.