The Office of Career Services holds many career and networking events throughout the year, but the much-anticipated Spring Career & Internship Fair is just around the corner. This year's event will be held in the Rockland banquet room on Tuesday, April 10, from 3-5 p.m.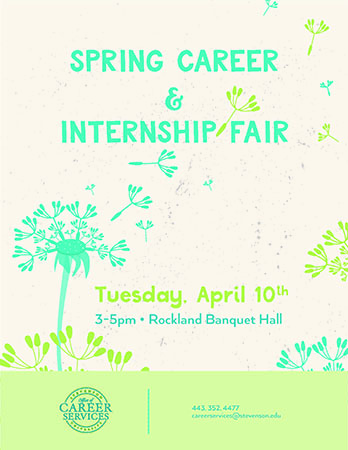 At the career fair, students will have the opportunity to meet companies looking to hire full-time and part-time employees, as well as interns. Matthew Seiler, Career Services events and marketing coordinator, said that this year's spring fair is particularly special in that it is the first time employers will actively be looking for interns as well as other paid positions.
Students should expect to see a wide variety of employers and organizations at the event. More than 40 organizations will attend, making it a valuable opportunity for students of all majors and interests. Seiler said students should research the companies in attendance beforehand, as well as dress professionally and make sure to bring printed copies of their resumes.
A list of the companies who will be present at the career fair is below:
Advance
All-Pro Placement
AmTote International Inc.
Automotive Training Institute
BMW of Towson
Brightview Senior Living
CARCHEX
CareFirst BlueCross BlueShield
Chesapeake Human Resources Association
Choptank Transport
Delaware Department of Correction
General Dynamics Information Technology
Global Telecom
High Sierra Pools
MileOne Autogroup
North Oaks Senior Independent Living
Northwestern Mutual – Baltimore
Primerica
Protech Associates
Randstad Professionals – Accounting & Finance Staffing
Restoration East, LLC
Soccer Shots DC/Maryland/Virginia
W. Ponessa & Associates Counseling Services, Inc.
The Choice Program at UMBC
The Young School
Travelers
United States Capitol Police
University of Maryland Medical System
Verbal Beginnings, LLC
Victor Stanley, Inc.
B. Mason Company, Inc.
Walgreens
Students can use this event to their full benefit as it is a free resource and learning experience for students, said Seiler. He also stresses the importance of taking advantage of the fact that there are so many employers there at once, and they have the chance to show off their skills in a more informal setting.
Although Seiler understands talking to potential employers can be stressful for students, he said, "There's nothing better than seeing a student having a meaningful conversation with an employer than turning around and having a big smile on their face like, "YEAH I DID IT!" Students are encouraged to step out of their comfort zones and practice their networking skills at the fair.
Those who want more information or have questions can visit the Office of Career Services in Wooded Way.