Spring Serve provides alternative spring break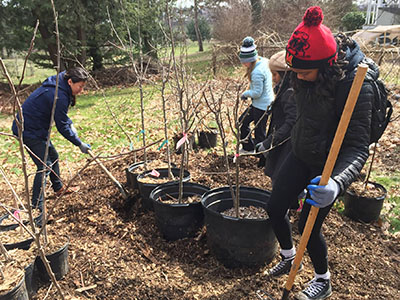 Stevenson University students utilized their spring break this year to volunteer at local Baltimore organizations for environmental causes through Spring Serve.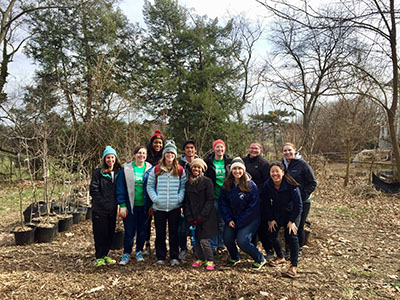 Spring Serve was an alternative spring break opportunity offered by Center for Environmental Stewardship (CES) and Mission: I'm Home (MIH), designed for students to stay local and participate in various programs for environmental conversation, reservation and restoration. Students visited seven organizations in Baltimore City from March 14-18, 2018.
Diamon Clark, a staff member of CES and a coordinator of Spring Serve, explained that it was the first collaboration between CES and MIH, but the idea was spontaneous.
"I hope that this experience sheds light on why caring for the environment is important, not only for having pretty things to look at, but having a healthy life, because living on a healthy planet makes healthy people," she said.
CES creates sustainability and recycling programs on campus. The organization provides water bottle filling stations, cares for the Native Plant Garden, hosts an annual stream cleanup near the university, and engages students in Mustangs Make a Difference Days.
MIH is a service program that organizes yearly trips for students to help rebuild homes damaged by natural disasters in New Orleans, Louisiana and Staten Island, New York over the breaks and during the summer. They have done two Fall Serves in the past, and Spring Serve is built on its model, according to Kimberly Tucker, the director of CES.
The range of organizations that were covered during Spring Serve include The Maryland Zoo in Baltimore, Baltimore Orchard Project, Maryland Agricultural Resource Council, Cow Comfort Inn Dairy, Second Chance Inc., Park Heights Community Health Alliance, and Sandy Point State Park.
Clark said she established relationships with the organizations, after which the organizations proposed a list of activities for students.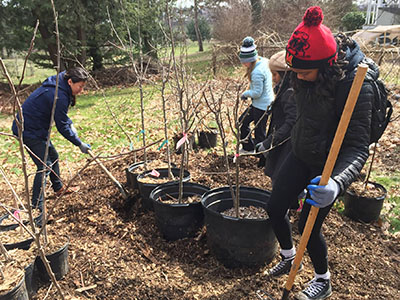 The students volunteered at a different organization every day throughout the break. They participated in beach cleanup in the state park; repurposed construction materials with Second Chance Inc.; worked with the landscaping crew in the zoo; helped with weed, mulch, and bed preparation for Baltimore communities; and participated in a farm tour to learn about local produce, and how local food systems are beneficial to farms, people, and the planet.
Tucker said that Spring Serve helps Second Chance Inc. give construction materials a second chance through repurposing, and gives people who are in jail a second chance by offering job opportunities.
There were 10 students and three staff members–Tucker, Clark and Jacob Quimby–who participated in Spring Serve this year. Quimby is a senior communications specialist in recruitment marketing for Stevenson Admissions, and was also a member of Mission: I'm Home when he was a student.
Each student paid $50 to participate in Spring Serve. Transportation was provided to drive the students and staff to and from the sites. On-campus students were given permission to stay in their residence halls over the break.
Donate to Stevenson Villager
Your donation will support the student journalists of Stevenson University. Your contribution will allow us to purchase equipment and cover our annual website hosting costs.