Although the men's lacrosse team is currently 1-5 on the season, looks can be very deceiving.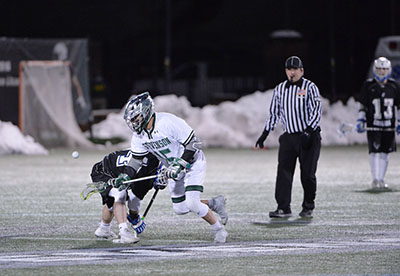 To start the season, the Mustangs opened at home on Feb. 25 against Denison University,  ranked at No. 8 nationally currently, losing in an 11-10 heartbreaker that could have gone either way. Against currently 4th-ranked Gettysburg  College on March 3 the Mustangs lost a hard-fought battle in overtime, 7-6. Following that loss, the next five games were all out-of-conference opponents, and every one of those five opponents were ranked in the top 15 in the country.
A TOUGH SCHEDULE
The Mustangs' schedule is not one of the hardest in the nation; it is the hardest schedule in the nation. An early test of strength is good for any team looking to find their identity, but early losses — and such close ones — can take their toll on the players.
In 2017, the Mustangs finished 14-6 and, in the year previous in 2016, the Mustangs finished 15-5.  Head coach Paul Cantabene explained: "We have been able to build a winning tradition here by getting tough players who want to be great and are willing to sacrifice their social life in order to make it happen. We want kids that understand what it means to play here and are willing to work hard to make that happen."
Even with the toughest schedule in the nation, a 1-5 record is nothing to be satisfied with, especially with the success the Mustangs have had in the recent past.
"Our biggest goal," said Cantabene, "is to win our conference and get an automatic playoff bid. We had some tough games and have been able to compete in those games. We just have to finish.  In order to accomplish the goals that we want to, then we must learn to compete and finish at a high level."
A 9-7 loss to eighth-ranked Salisbury University on March 10 saw the Mustangs get off to a slow start against one of the top Division III national teams, and they were held scoreless in the final quarter. A total of 19 Mustang turnovers accounted for some of Salisbury's victory, and the SeaGulls outshot the Mustangs 43-29.
THE MUSTANG CLASSIC
In the Mustang Classic March 16-17, Stevenson lost a close first-round game to Dickinson College, 11-9, as the Mustangs were able to win only 10 of 24 faceoffs and were just slightly outshot by the Red Devils 49-46. In the next day's game, then No. 4 York College beat the Mustangs 20-7 in a non-conference game. Though Stevenson dominated at faceoff 20-10, goals escaped the Mustangs for much of the game, as the Spartans roared off to an eight-goal lead before the Mustangs could score.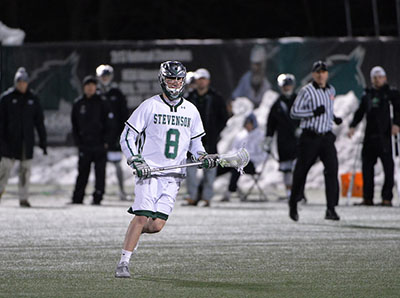 The Mustangs' first victory came against then-No. 3 Cabrini College on March 23, another nailbiter, but one that fell in favor of Stevenson, 14-10. The win for the Mustangs gave the Cavaliers their first loss of the season, as the Mustangs won 19 of 28 faceoffs and grabbed 31 ground balls to Cabrini's 25. After the win, junior J.T. Thelan was named Middle Atlantic Conference (MAC) Offensive Player of the Week on March 26 for his five goals and one assist.
"I've just been angry — I've been really frustrated, just because we've been so close to beating these top-10 teams," said Thelan in a post-game interview. "It wasn't just me — everybody played great," he added.
CONFERENCE PLAY STARTS
With their first six games against top-15 opponents, the Mustangs were ready for MAC Commonwealth opponents. Against Alvernia University on March 27, 17 Stevenson players scored in a 32-7 rout of the 0-7 Golden Wolves. The Mustangs set a school record that night for goals scored and won 36 of 41 faceoffs. Mustang sophomore Ethan Christensen and freshman Jacob Tatum each four goals and an assist, and sophomore Collin Tucker had three goals.
The Mustangs have gotten through the most challenging part of the schedule and are heading into conference play as they look to win where it matters the most. Fans can support the Mustangs in their upcoming home competitions against Stevens Tech, Messiah College, Arcadia University, and Widener University. Their next home game is Tuesday, April 3, against the Ducks of Stevens Institute of Technology at 7 p.m. For more information, visit Gomustangsports.com.