Stevenson's men's and women's tennis teams are shooting for the stars this spring and aim to win the Middle Atlantic Conference (MAC). The men's team is hoping to make their first NCAA tournament debut, meanwhile the women are working to get a tournament berth this season to have a chance to play for the conference title.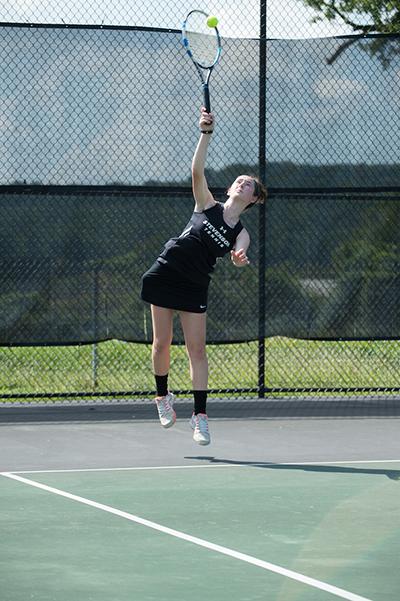 For the past two years during spring break, the teams travel to Hilton Head Island, S.C., where they compete in the annual PTR Spring College Tennis Fest competition. This is not only a way to kick off the spring season of competition, but a measuring stick to where each team stands. This is also a time when team bonding occurs.
"We get to know one another so by the time out matches come around, we are very comfortable with each other. After this trip we come back even closer than we were before," said sophomore Jenna Skove.
The men's team had a successful week going 3-0 with wins over Illinois Wesleyan University, Concordia University (Wisconsin), and Marietta College.
"Andre Sturniolo, Worden Ly, and Doug Vaughan all played at a very high level throughout the entire week," said coach Evan Clifton. During the Concordia match, Sturniolo and Vaughn made a huge comeback against Concordia's #2 doubles team, down 4-7, to win the match 9-8 in a tiebreaker. From there, the men's team were down 1-2 after doubles play and won in 2, 3, and 4 singles to tie up the match 4-all.
The women's team had a shaky start in South Carolina at the Palmetto Dunes Tennis Club with a loss to a good Illinois Wesleyan team, followed by a tough 5-4 loss to Marietta College. After one of their most focused practices of the year, the women's team closed out the week with a win over Montreat College, 5-4.
"Jenna Skove and Megan Waskiewicz competed very well all week in both single and double, as did Kirstyn Davidson, and Kelsi Mentzer really got back on track with a couple wins in the Montreat match," said Clifton.
After spring break, Vaughn and Skove were named MAC Commonwealth Players of the Week. Senior Worden Ly said, "I believe we can do it [win the conference and get a berth in the NCAAs] this year. The team is closer and a lot stronger compared to last year's team. Most importantly, the team is more focused than ever to win the conference than in the past years."
Both teams have to bring the same effort and hard work to there upcoming matches, as the Mustangs kick off their conference schedule at Alvernia University April 4, play at home vs. Albright College on April 7, and then at defending conference champion Messiah College on April 10. Both teams believe they have the talent and the grit to accomplish their goals, but must be consistent and remain focused.