Shannan Bonner was transferring from the College of Southern Maryland in search for something more intimate when she found Stevenson University.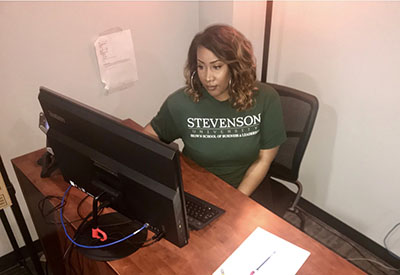 Bonner explained that Stevenson's campus made a great impression on her. On her initial visit,  she noted that everyone she encountered was very friendly and well-mannered.
"Students all wore smiles on their faces as they held doors open for my family and I during the tour," she said. After her tour, Shannon knew that Stevenson was the right academic institution for her.
She came across a Tech Connection job listing on the student employment page. Even though she did not have much experience with technology, the job description did not deter her because she started out as an information systems major in her first semester at Stevenson. She knew that information technology was a dominating force in the work field, and that working for a helpdesk would help elevate her resume and technical skill set.
Bonner was officially hired for the Tech Connection position during the end of the fall 2016 semester, and started her first day after winter break in January 2017. She has been working as a student tech for a year and also acquired an internship with Tech Connection for the spring 2018 term.
"Working at Tech Connection has kept me very busy on a day-to-day basis. I normally go in for my shift and start off my day either answer incoming calls from teachers, parents and students who are in need of assistance," she explained. "I check the Tech Connection email, I listen to voice messages, and forward them to the helpdesk queue. I also search through the helpdesk queue and respond to tickets that have not been assigned to a technician. When I get a call or ticket assigned to me regarding printer, copiers, computers, projector issues; I leave the office to troubleshoot the matter. If I am able to fix the problem I resolve the ticket. If the issue still persists, I reassign the ticket to someone in Desktop."
Bonner's duties also include rebooting offline computers, assisting with password resets, and changing toner in all of the campus printers. She also closes the office on days that she works late.
Bonner enjoys the new challenges and even the problems that come with the job.
"Every ticket is special in its own way and needs a certain set of skills and problem solving in order to resolve the issue," she said.  Bonner will graduate in May 2018 and is excited to take the hands-on training that she has gained over the time working at Tech Connection and implement those same skills at an IT job after college.  She believes the hands-on experience she has gained and IT certifications will help her in her career.
"Having the opportunity to work for Tech Connection at Stevenson University has given me valuable insight and knowledge in this technological world," she said.