The Stevenson University baseball team has started the season out strong, winning 10 of their first 18 games. The Mustangs are currently 10-8, with a 2-3 conference record as they move forward into the heart of conference play.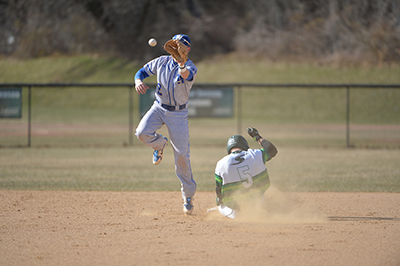 It's been an interesting year so far for the team as they have experienced several schedule changes due to snow and poor weather early in the season. The team is not letting that get in the way, however, as they are determined to have a strong second half of the year. "We're really trying to take it one game at a time and focus on winning each day to get better," said senior outfielder Michael Kelly.
A series against Hood College was postponed until March 26, and the double-header was a tough one for the Mustangs. The two games were very close with the Mustangs falling 6-4 and then 13-12 to the Blazers. There will be a lot to take away from the two games, however, as Hood College currently holds an impressive season record of 17-1.
"Our upperclassmen have a lot of experience playing this many games in a short time, so we're trying to get the young guys on board with how to handle the tough schedule," said Kelly.
The Mustangs were previously riding a six-game win streak going into game two of a double header on March 19 with Widener University. The streak was snapped in a hard-fought 2-1 loss to the Pride. During the six-game winning streak, however, the Mustangs battled en route to a 6-0 shutout victory over York College. In the first shutout performance of the year, senior pitcher Michael Remeikis was in a rhythm.
"At this level when all three of your pitches are working you're very tough to beat," said head coach Dave Gage.
Now 18 games into the season, the Mustangs have combined for a team batting average of .298, with an on-base percentage of .416. The team has also accumulated an impressive 33 stolen bases through 18 games. The bats have been hot so far this season, with the Mustangs driving in 21 runs against Frostburg State University on Feb. 17, 14 runs against Immaculata University on Feb. 28, and 17 runs in a conference win over Widener University on March 16.
Sophomore Kevin Murray Jr. leads the team 18 games in with a batting average of .400. Not close behind is senior third baseman John D'Aquanno, who is currently batting .386. In his senior campaign, D'Aquanno has 27 hits with 16 RBIs. He has also hit one of the team's three home runs.
This year's team has a good balance of upper- and- lowerclassmen. The Mustangs have five seniors who have played in over 10 games this season: Billy Small, Michael Rhodes, Jake Dimon, D'Aquanno, and Kelly. Freshman Kevin Barrett leads his class with 12 games played so far this year.
On offense, the three-man trio of Small, D'Aquanno, and Matt Kerber has combined for 45 RBIs.  Kelly said, "We've been having success because guys have bought into the new mentality and are working hard and becoming selfless."
In the first half of the season, the Mustangs' pitching rotation has combined for a 4.76 ERA, and has given up only one home run. The pitching crew has also struck out 125 batters.
Gage has encouraged his players to "stop trying to be perfect and just go out and compete." This has proven to be a successful message so far for the Mustangs in their 2018 campaign.
The team returns to action on March 30, when they host a double header against Albright College at Sugar Field, beginning at 1 p.m.