Student photographer captures athletics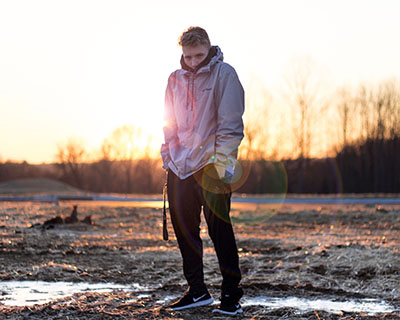 Everyone's heard the saying that a picture is worth a thousand words. For some, however, those words become a reality and taking pictures becomes more than just a hobby. Sam Brettschneider is one of those people.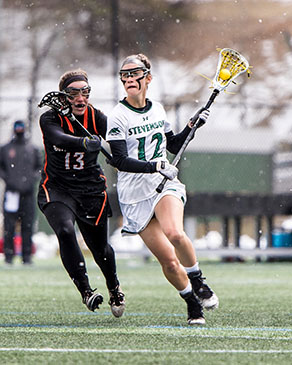 Through his pictures, Brettschneider has become a household name at Stevenson University. You can find him at nearly every home sporting event, locked in to do the work he loves.
Brettschneider is a junior transfer student who came to Stevenson based on the possibilities for further academic success.
"I received the full-tuition academic Transfer Fellowship Scholarship, so I initially came here based off of academics," Brettschneider said. It is through photography, however, that he has become a well-known member of the Stevenson community. Anyone who has seen his work knows how much it means to him.
"I started to really get into photography spring of my sophomore year, but I had made videos and gained experience using creative software since freshman year of high school, " said Brettschneider. He has used his years of experience to fine tune his creative side to create the best possible photographs.
Since the beginning of this academic year, Brettschneider has taken photographs at multiple sporting events. Football, women's soccer, men's lacrosse, and women's lacrosse are some of the many sports he has photographed thus far.
"The best team at Stevenson to take pictures of is women's soccer because they're the goofiest with me. The most photogenic sport is definitely men's lacrosse, plus, I love the atmosphere of lacrosse games," he explained.
A long list of people have inspired Brettschneider to become the best photographer he can be.
"Aside from my buddies back home inspiring me to start taking pictures, Ben Brown and Casey Neistat have been huge influences on the creative and uniqueness side of my stuff. I also have more personal influences which include professor Walt Calahan and Sports Illustrated's Al Tielemans, who influence my creative approach to sport photography," he said.
Brettschneider has used various different set-ups for taking his pictures, but he's found that there's one set-up that he prefers. "I use a Canon 7D Mark II, with mainly a Tamron 70-200 f/2.8 and a Canon 50mm f/1.8; Manual mode is what I prefer, but in some situations I'll switch between modes especially with tricky lighting," he explained.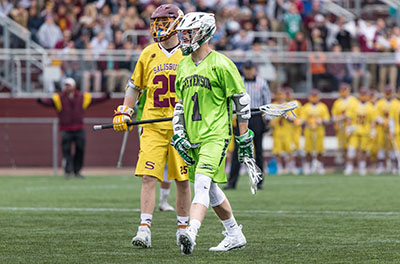 While many people at Stevenson recognize Brettschneider's photography skills, he enjoys other activities as well when he isn't behind the camera.
"I try to set aside time to experience life and appreciate things away from the camera and computer screen. Other than photography, I am a music addict and go to concerts regularly and always enjoy a good jam session with a bunch of friends," he said, adding that he has a passion for travel and fishing, often using his photography skills to document those moments.
Aside from Stevenson University athletics, Brettschneider has been involved with other organizations and schools.
"My favorite set of pictures I've ever taken is with the Maryland Book Bank partnered with the Baltimore Ravens. The kids in those pictures are just so adorable and you can really see how happy those books make them feel," he said. He has also worked with other universities. "Currently, I have a close and growing connection with Towson athletics and Greek Life, and I've done shoots for clients at UMD as well," he said.
Brettschneider has set a lot of goals for himself recently, and is aspiring to expand his photography as he continues to improve his skill-set.
"In the grand view of things, I'd love to travel the world and country and photograph sports as well as my adventures throughout life. Recently, professional lacrosse player Paul Rabil has reached out and expressed interest in working together, so hopefully that will develop soon. I also have potential connections with the Baltimore Ravens and Orioles, so my hope is that in the next few months those will become more possible."
There is no doubt that Brettschneider will continue to impress with his photography. He loves what he does, and other people are beginning to recognize the talent that he possesses.
"A year ago, I barely took photography seriously and I've come so far since. I know as long as I put my all into this and accept the challenges of becoming a photographer, I'll find my place within everything," he said.
For a closer look at Brettschneider's work, visit https://www.flickr.com/photos/sambrettschneider/.
Donate to Stevenson Villager
Your donation will support the student journalists of Stevenson University. Your contribution will allow us to purchase equipment and cover our annual website hosting costs.