Enrolling into a college or university can be a stressful time for students as they transition from everyday life in high school to life as college freshmen. Stevenson University provides support for the first-year students with a variety of mentors and programs, set with the intent of making the new students feel comfortable with college life.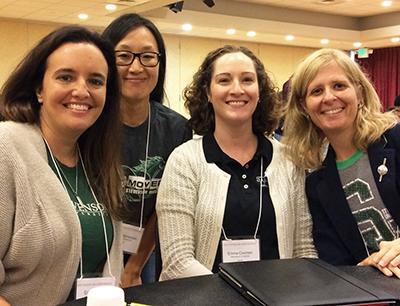 Leading the Student Success staff is Christine E. Moran, Ph.D., the assistant vice president of Student Success. Tasha Gooden, the director of student success for traditional first-year students, is responsible for ensuring that students transition into their life at Stevenson as smoothly as possible. Gooden works in conjunction with four other Student Success Coaches: Emma Coomes, Carrie Holzmeister, Fran Jackson, and Wendy Stevenson, who are also responsible for assisting first-year students.
The freshmen are divided among the four success coaches depending on their major of study. Once students are assigned a success coach, they remain with their coaches for the entire first academic year, then transition to an academic advisor as they move into their sophomore year.
Erika K. Dumke is also a part of the Student Success team, working as the director of academic and health career advisors. She serves as a liaison between academic advisors and the Student Success staff. Other members of the team include Terra N. Hall, the director of student support; Philip M. Gillett, who is the director of the Academic Link; Kevin J. Knudsen,  the assistant director of the Academic Link; and Dr. Terri Massie-Burrell, the director of disability services.

Stevenson junior Taylor Luallen said that even with an academic advisor, she still occasionally reaches out to her success coach. According to Luallen, while she underwent making one of the biggest changes to her academic career, her success coach kept in touch during her sophomore year.
She offered a few tips for first-year students about fully utilizing the resources available, such as Stevenson's success coaches:
Ask for assistance in creating a plan for fall and spring semesters, in order to help you transition smoothly into your second year
Take advantage of all resources offered
Attend every class you have scheduled
Get to know the academic advisor and student success coach to whom you are assigned
Focus on your success and remember that the coaches are here to guide you
According the the Office of Student Success website, many services are provided by these first-year advisors:
Course Planning and Advising
Registration Assistance
Student Support Groups
Academic Support Planning
Student Success Workshops (Time Management, Study Strategies, Test Preparation)
Connection to Campus Resources
Student success coaches do not only assist first-year students in ensuring that they take full advantage of all Stevenson's resources, but they also assist students in planning for upcoming semesters.
For more information on Student Success Coaching or for students who may be unsure about who their assigned coach is for their first year, contact the Office  of Student Success by emailing [email protected].
Senior features editor Courtney Hottle contributed to this article.