Two on-campus conferences are slated for April 21, hosted by student clubs, that focus on empowering attendees.
The Male Initiative of Leadership and Excellence club (M.I.L.E.) will host a men's conference on April 21 from noon–5 p.m. in the MAC SOLVE room (OMN). The event is for those who identify as male and are part of the Stevenson community.
The Reach out. Inspire. Strengthen. Empower. club (R.I.S.E.) will host a women's empowerment conference on the same day, from 10:30 a.m.–5 p.m., in the Claire E. Moore room in Garrison Hall (OM). This event is open to any Stevenson students.
The first annual men's conference held by M.I.L.E will include a pre-screening event at 7 p.m. on April 20 in the Garrison Commons (OM) for the film "The Mask You Live In."  The film focuses on young men who struggle to stay true to themselves while negotiating America's narrow definition of masculinity.  The film will be discussed the following day during the conference.
According to president of M.I.L.E. Bryson Barksdale, the club gained a lot of new members this past fall, and members wanted to create an event examining professionalism that was specifically open to male students at Stevenson.  With inspiration from the women groups on campus, they decided to create a conference for men. Topics will include masculinity, leadership and service.  The focus of the conference will be on the professional and personal development of males, providing networking opportunities and enabling M.I.L.E. members to display their talents.
---
The schedule of the men's conference is as follows:
Noon: Opening remarks made by Barksdale, followed by the keynote speaker, Cheddy Matthews, who spoke to the men of M.I.L.E. during their concluding banquet last year.
1 p.m.: Lunch break catered by The Land of Kush, a vegan soul-food restaurant.
2 p.m.: Kendéll Lenice will speak about the intersection of feminism and manhood, followed by a roundtable discussion led by members.
2:45 p.m.: The next speaker, Sterling McKinley, will discuss the importance of personal branding, followed by another roundtable discussion.  A short break will follow, allowing the men of M.I.L.E., to prepare for poster presentation sessions.
3:45 p.m.: Students can network and attend sessions that most interest them.
---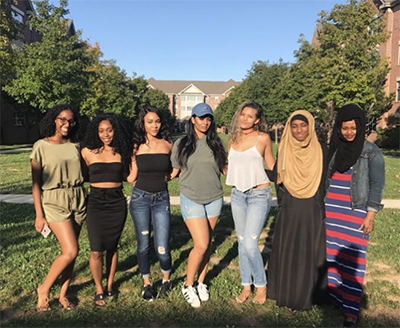 According to the vice president of R.I.S.E., Maddie Saul, the idea of hosting the first Women's Empowerment Conference came about when two of their members attended the National Conference for College Women Student Leaders (NCCWSL) last summer.
Saul said, "We really enjoyed the way it felt to be surrounded by strong, passionate, like-minded women and allies of women and wanted to bring that to Stevenson University."  The group decided to create a conference in which they brought women together to empower them.  The conference will focus on three main topics: empowering others, unity among women, and self-love.
---
The schedule of the women's empowerment conference is as follows:
10:30-11 a.m.: Sign in.
11 a.m.: Keynote speaker Tyrese Jackson, a Stevenson alumni, followed by Stevenson staff member Maumi Chatterton and psychology professor Tiffany Sanchez, will speak, followed by Stevenson students Sehlah Butt, Kenetia Pinkett, and Brittany Booker.
12:30 p.m.: Snack and chat. Students will have the opportunity to talk with the speakers and mingle with the members of R.I.S.E.
1:15 p.m.: Panel discussion with the speakers, to give the students a chance to ask any questions they may have regarding the three topics discussed, as well as anything else pertaining to the conference.
2- 5 p.m.: Networking. There will also be various vendors present, some of which are Stevenson students who run their own small businesses.
---
The day after the R.I.S.E. conference, on April 22 from 6-9 p.m. in the Caves parking lot, there will be a "Walk of No Shame,"  a nationwide movement created by Amber Rose that empowers women and strives to end rape culture and victim shaming.
Both conferences offer individuals of the Stevenson community an opportunity to learn more about their position in today's society.