Stevenson prepares for new ambassadors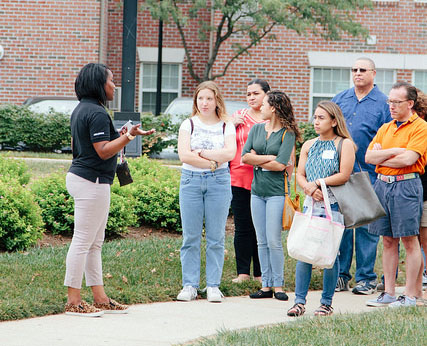 Stevenson University proudly claims "SU is Home," and it is the job of the student ambassadors to make sure new students feel that welcoming spirit.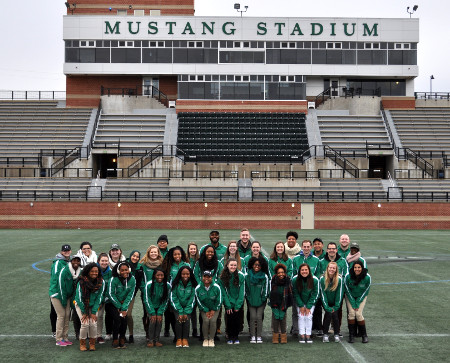 The student ambassadors are 60 students who work part-time for the admissions department, giving tours and interacting with families in order to offer the student perspective of life at Stevenson.
The program began in 2010, replacing the Mustang Crew position that began about 10 years ago when college tours became popular.
"It turned into a need," said Molly Hayeslip, assistant director of guest experience at Stevenson University. "The college tour concept really started coming about 10 years ago and that was a really a thing that people wanted to do when they came to visit a school. It was more than just, 'I need to meet with an admissions counselor.' It was, 'I want to see the school, I want to go to the dining hall where I would eat, I want to see the dorm I would be living in, I want to see where I would be taking classes.' It's a more immersive experience."
The student ambassadors are a mixed group of individuals from different majors and backgrounds. They are involved in many different extracurricular activities on campus and have skills in public speaking, spontaneity, and customer service. Ten new ambassadors are hired each year to continue the tradition.
The ambassadors are able to connect with families and provide a comfortable atmosphere for students to ask questions and learn more about the Stevenson community. Ambassadors are paired with incoming and potential students of similar majors to make sure visitors benefit as much as possible from their tour.
"Families get to interact with a current student who has been in their student's shoes in applying here, choosing here, and going through the whole process," said Hayeslip. "They can share stories, personal anecdotes, and go through the process. Families really like talking with students and sometimes feel more comfortable asking questions of the student than they do with staff. With the students, sometimes it's just a little more casual of an interaction."
Stevenson University strives to be a place that promotes acceptance of diversity and preparation for success, and the student ambassadors are a face to put with those values.
"They are the nicest, most outgoing, sometimes rambunctious group of students who are happy and loving people," said Hayeslip. "They love this place, and help admissions and families. We couldn't function in the office without them."
The first round of interviews for hiring new student ambassadors has already closed for the current spring semester, but interested students who are sophomores or above can look to apply next spring or possibly fill vacant slots in the coming fall semester. Potential applicants should check to the Job Search page of the Stevenson University website for updates and openings.
Donate to Stevenson Villager
Your donation will support the student journalists of Stevenson University. Your contribution will allow us to purchase equipment and cover our annual website hosting costs.