Women's lacrosse hopes to finish strong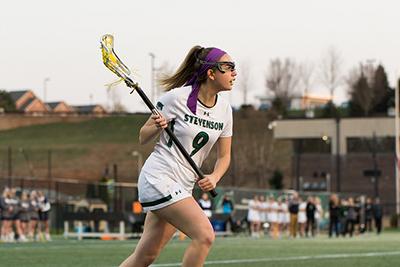 The women's lacrosse team has had their ups and downs all year, but the team has worked hard to overcome adversity. Coach Kathy Railey has maintained her high expectations for the team and is looking forward to winning the Middle Atlantic Conference, which would gain the team an automatic bid to the NCAA tournament.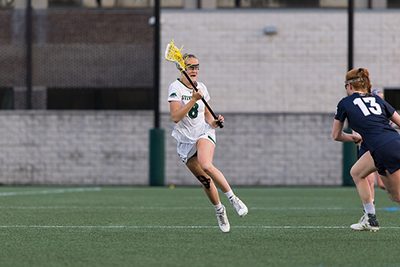 After losing three conference games in a row to Messiah College (10-7), Lebanon Valley College (10-6), and Arcadia University (11-10), the team bounced back with a strong showing on Senior Night against Hood College, winning by a score of 14-5. Senior MaryKate White netted a career-high four goals in the Mustangs win, and freshman Melanie Meara scored her first collegiate goal in the victory. Senior goalie Jess Larosa recorded six saves in the contest.
"After Arcadia [April 21], we all felt like something major has to change if we want to win the MAC. We can't let teams like that beat us. We've proven to ourselves what we are capable of against teams like Messiah and Salisbury, so we can't have any more slip ups in conference play," said sophomore Kiely Bunce.
After a 22-16 win against Lycoming College on April 11, led by senior Hana Tankersley's career-high four goals, the team felt a renewed energy to face 13th-ranked Messiah College on April 14, and though the Mustangs did not get the win, the game was close until the very end when Messiah had a strong late run.
The team practices six days a week for at least two hours on the field and lifts two days a week. This is a young team that is still trying to figure out their path. Coach Kathy Railey spoke about the team's challenges: "Our depth has hurt us in 2018. We are a small team with a lot of first-year and sophomore players, so our experience doesn't match some other teams we play."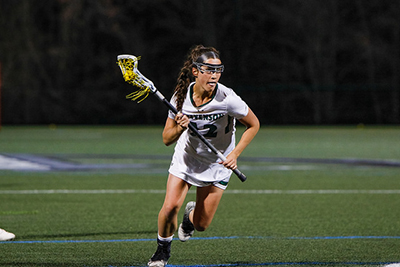 "We always either start out really strong and start to lose our lead, or we start off slow and sluggish and then pick it up in the second half after the other team has a lead already. That's something we've slowly gotten better at doing this year," said Bunce. She added that the team just needs to consistently put the ball in the back of the cage.
"If you look at the scores of our games this year, they are pretty close in goals. In several games, we didn't score more than 11 or 12 goals. Low-scoring games are odd in women's lacrosse," said Bunce. "We also used to struggle when other teams played a backer against us, but recently, we have made major improvements on the attacking end, and our confidence has really improved," she added.
"The impacting players on this team are the girls who show up each day with a positive attitude who aren't afraid to be leaders no matter their playing time or age. People who act like we are a family and can't achieve our goals unless it's together are the impacting players of this team, and our captains rock," said Bunce.
The team has one game remaining in the season, closing out the year at Widener University on April 28 at 1 p.m.  According to gomustangsports.com, this is the first year since 2012 that the Mustangs have lost three conference games in a season. The Mustangs are currently in fifth place in the league standings with one game remaining.
Donate to Stevenson Villager
Your donation will support the student journalists of Stevenson University. Your contribution will allow us to purchase equipment and cover our annual website hosting costs.