Many of us are familiar with the  Cinco De Mayo holiday , but few know the history behind it. The holiday is one close to Mexico's heart, and often comes with delicious meals and sweets.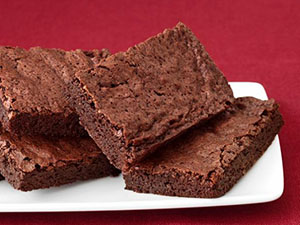 Cinco De Mayo, or "The Fifth of May," is a minor celebration in Mexico celebrating their monumental win over France in the battle of Puebla during the 1862 Franco-Mexican war, according to history.com. While Mexican's themselves see this as a minor holiday, it has become a huge symbol for Mexican culture in the United States, and is often celebrated by people of many ethnicities, honoring the historical victory.
While the popular way for Mexican-Americans to celebrate this holiday is with Tex-Mex favorites such as tacos, enchiladas, and margaritas; Mexican brownies are a great dessert to add to the festive menu. Whether you are celebrating alone, with friends, or with family, Aaron Sanchez's Mexican Brownies are sure to be a crowd pleaser.
The recipe from the Food Network is an easy dessert to make in your dorm. This is a made-from-scratch dish, but is no more difficult than making a batch of cookies. A quick run to the store will get you the few items you may not already have in your cabinets.
The ingredient list and recipe is below:
2 sticks unsalted butter, plus more for greasing the pan
2 cups sugar
4 large eggs
2 teaspoons vanilla extract
2/3 cup good-quality unsweetened cocoa powder
1 cup all-purpose flour
1 teaspoon ground Mexican cinnamon (canela)
1/4 teaspoon pequen chili powder or cayenne pepper
1/2 teaspoon kosher salt
1/2 teaspoon baking powder
Preheat the oven to 350 degrees. Line a 9-by-13″ baking dish with parchment paper, leaving an overhang on two sides. Press the paper into the corners of the pan and lightly grease the paper with butter.
Melt the 2 sticks of butter in a nonstick saucepan over medium-low heat; do not boil. Remove from the heat and let cool slightly. Add the sugar, eggs and vanilla to the saucepan and stir with a wooden spoon until combined.
Add the cocoa, flour, cinnamon, chili powder, salt and baking powder and mix until smooth. Spread the batter in the prepared pan and bake until a toothpick inserted in the middle comes out fudgy, 20 to 25 minutes. Cool in the pan on a rack, then use the parchment paper to lift out the brownies before slicing.
When making this recipe, I decided to use chili powder, as well as a 9×6″ pan — that's all I had available. The substitution of the pan made a little difference, except for the cooking time. Instead of taking 20-25 minutes, it took closer to 35 minutes. The only other change was that I did not use parchment paper to line the pan. I noticed a little difference in the level of difficulty in removing the brownies from the pan.
As for flavor, when it comes to these brownies, they sure do pack a punch! While the sweet and spicy flavor is not overwhelming, you can definitely taste the added spice of the cinnamon and chili powder. If you are someone who enjoys trying new things and tasting flavors from around the world, these brownies are a great treat to try.
There are plenty of ideas for fun Cinco De Mayo meals and snacks, which can be found on foodnetwork.com. Happy Fifth of May and Buen Provecho!