Coming into the 2018 season, the men's soccer team is looking for new beginnings, with goals to reach the Middle Atlantic Conference (MAC) playoffs for the first time in program history.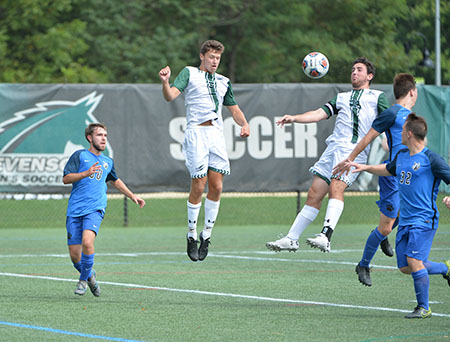 In the team's second year under the helm of head coach Graeme Millar, there is an overall feeling that the team has "bought in and are gelling together," according to sophomore defenseman Jevan Leyh, who also believes the team is more disciplined and has really come together.
Millar believes this year can be a new chapter for the program. With a freshman class of 20 players, Millar said there is a lot of potential with not a lot of pressure.  Now with one year coaching the men's team at Stevenson under his belt, Millar feels this team is truly "his team," as he has 14 players returning along with 24 incoming players.
With only two returning seniors on the 2018 squad, most teams might be worried about where the leadership will come from, but Millar said that there isn't a lack of leadership at all, as he believes all of his players are able to lead in various ways. However, he praised the two seniors for their "on- and off-the- field leadership."
After starting the season with a record of 1-2, with two one-goal losses and 6-0 victory, there is no panic from the coaches or the players. Millar is confident that if his team had played a full 90-minute game for all three outings, then they would be 3-0. Leyh also mentioned how the team gained confidence after the 6-0 win against Penn College.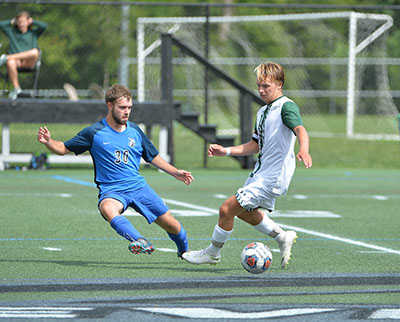 With those two close losses, Millar sees both 2-1 results as learning experiences. As these games are stepping stones for such a young club, he believes that going forward into the season if the team can manage to average two goals a game and allow an average of less than a goal on the defensive end, then they'll be in good position in their quest for their first playoff berth.
On Sept. 8 the team squared off at Shenandoah College. The Mustangs came out on top as they netted three goals. The first goal came from Tariq Lee in the first half and was then followed by two second half goals from James Rosa and Sean McDonald. The team allowed no goals for the second time this season, improving their record to 2-2.
The Mustangs will next face off at home against Catholic University on Sept. 12 at 4 p.m.