UPDATED on 10/3/2018 by editor Emma Cathy Smith
Changes to the Arts Alive! schedule have been made since the original publication of this article. The updates to the schedule can be found at the end in red.
---
Art has jumped off the page and is coming alive within the Stevenson community.
Arts Alive! is a campus-wide showcase at Stevenson University that features art created by students, faculty and staff. The showcase began in 2017, hosting Pop-Up art experiences such as the Inside Out installation, which featured large, black-and-white photos of students pasted on the external walls of the Greenspring Art Gallery, and Art Is…, an interactive project that asked students, faculty and staff what art means to them.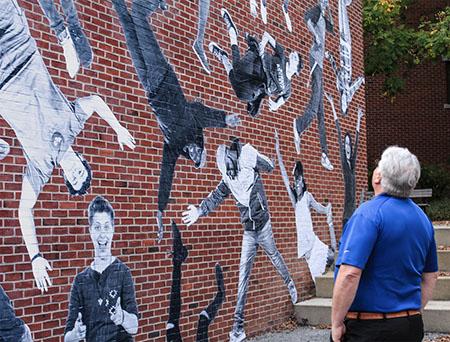 Arts Alive! highlights the capstone projects of graphic design and film and moving Image majors while providing the opportunity for other students and faculty to showcase their art. Many of the projects are collaborations between multiple majors and disciplinary studies.
"It's not necessarily that you have to pick up a pencil and draw, but that there is a creativity in everybody. The way to express that might come out in a science lab, it might come out with a paintbrush," said Aden Weisel, exhibition director and gallery curator at Stevenson University.
"The interactive exhibits give me a chance to pause and reflect," said Emma Cathy Smith, a junior business communication major and music minor. "I feel that having them is a perfect way to get the community involved with the arts. It engages all of our senses and it adds another learning method to our college experience."
Many of the exhibitions include workshops and activities on campus, such as the biodiversity nature walk, bread making workshop and lichen jewelry workshop associated with Inna Alesina's exhibition OVERLOOKED, and the artist's talk associated with Nicole Dyer's exhibition It's Kind of Pretty… A full schedule for this season is listed at the bottom of this article. More exhibitions will soon come.
Looking into the future of the initiative, Weisel adds, "There is an exhibition I would like to do based on the writing of Roxane Gay." Roxane Gay, a writer who weaves her many identities into her written work, recently created a digital magazine called Unruly Bodies for Medium. The publication revolved around the idea of being too much of any one identity. To add more dimension and perspectives, the magazine incorporated the work of multiple authors.
"You had authors writing about being too fat, too sick, too non-white, too female for society's standards and the way that their body did not fit into society, the way they tried to control it, and I know this is something that resonates for visual artists as well as writers."
The many Arts Alive! exhibitions on Stevenson's campus have sparked conversations and expressions of creativity among the Stevenson community. From explosions of yarn to interactive drawings, art has dared out of its usual gallery constraints, making it more approachable and interactive than ever. And at Stevenson, a university that promotes inclusion and creativity, that is where it is going to stay.
Arts Alive Schedule:
OVERLOOKED by Inna Alesina
Exhibition: August 2, 2018 – January 4, 2019, in the Greenspring Art Gallery (1525 Greenspring Valley Road, Stevenson, Md.)
Biodiversity Nature Walk: October 4, 2018, noon–2 p.m. Departs from the Greenspring Art Gallery
Bread Making Workshop: October 23, 2018, 2–4 p.m. in the Greenspring Art Gallery (Registration: breadmaking.eventbrite.com)
Lichen Jewelry Workshop: November 9, 2018, 5:30–6:30 p.m. in the Greenspring Art Gallery
Slow Growth by Christine Wolfe Strong
Exhibition: August 27 – October 26, 2018, in the Kevin Manning Academic Center Gallery (11200 Ted Herget Way, Owings Mills, Md.)
Workshop: October 16, 2018, 5–6:30 p.m. in the Kevin Manning Academic Center, Room S275
It's Kind of Pretty… by Nicole Dyer
Exhibition: July 23 – November 25, 2018, in the St. Paul Companies Pavilion (1525 Greenspring Valley Road, Stevenson, Md.)
Opening Reception: September 5, 2018, 4–6 p.m. in the St. Paul Companies Pavilion
Artist's Talk: October 18, 2018, 5:30–6:30 p.m. in the St. Paul Companies Pavilion
Closing Reception: November 8, 2018, 5–7 p.m. in the St. Paul Companies Pavilion
But first they must catch you by Ryan Lytle
Exhibition: July 16 – December 17, 2018, in the School of Design Gallery (11100 Ted Herget Way, Owings Mills, Md.)
Workshop: October 5, 2018, 2:30–4:30 p.m. in the Kevin Manning Academic Center, Room S275
Reception: October 5, 2018, 5–6:30 p.m. in the School of Design Gallery
A Journey Through the Elements by the students of Fashion Design
Exhibition: November 11, 2018 – January 11, 2018, in the Kevin Manning Academic Center Gallery
Reception: November 29, 2018, 5–6:30 p.m. in the Kevin Manning Academic Center Gallery