Stevenson's Service Scholars have planned several trips and events for the 2018-2019 school year. From volunteering at the Baltimore Humane Society Dog Fest, to rebuilding houses lost to Hurricane Katrina, these activities give the Service Scholars an opportunity to lend a helping hand.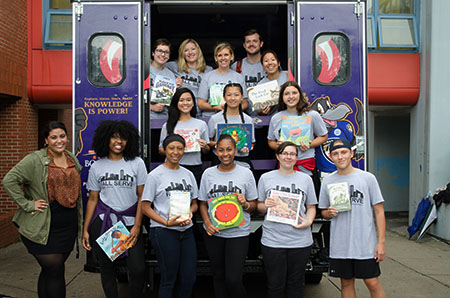 SERVICE SCHOLAR PROGRAM

The Service Scholar program allows participants to extend their civic engagement through local community service. Students can explore their personal interests in service and learn how they can apply these experiences and skills after graduation.
To be accepted into the program, students must have a 3.0 GPA on a 4.0 scale at the time of application and successfully complete an interview process. Those accepted into the program receive a $2,000 scholarship renewable throughout their four years at Stevenson.
Behind the scheduling, partnerships and other activities for the Service Scholars is Morgan Somerville, director of student engagement. Somerville has taken the initiative to provide opportunities by partnering with various service organizations both within and outside of the Stevenson community.
Her goal is to have Stevenson's Service Scholars become a household name within these organizations; whenever they may need help, they will know Stevenson is the place to ask.
"What we look for is drive and motivation," Somerville said about applicants. "Anyone can say they like to serve, but we want to know who they are serving specifically and why."  The Service Scholars meet monthly to discuss their experiences in service and offer suggestions for future events.
Scholars are required to enroll in three service-learning courses and maintain a 3.0 GPA throughout their time at Stevenson. Additionally, they complete 100 community service hours each academic year.  The reason for this is to allow students to constantly find service within the Stevenson community and get comfortable looking for off-campus opportunities to serve.
There are several different opportunities to complete service hours every weekend, including volunteering with local organizations such as the Irvine Nature Center and the Weinberg Village retirement home, mentoring and tutoring in nearby schools, and even attending the annual out-of-state trips with Stevenson's Mission: I'm Home.
MISSION: I'M HOME

Mission: I'm Home takes annual trips to New Orleans. There are still multiple homes devastated by the damage of Hurricane Katrina even 13 years after the catastrophe. This will be the 10th year Mission: I'm Home will help rebuild these houses and aid affected individuals.
While the trip is not limited to Service Scholars, Somerville explained that this is an effective way to not only obtain a large number of the required service hours, but also to gain important life skills including carpentry, communication with clients and many more.
This year, Mission: I'm Home is inviting Stevenson alumni, special guests and other supporters to serve alongside current students as Mission: I'm Home celebrates its 10th year. Attendees will be going to New Orleans for both winter and spring break and will be going to Houston, Texas, in June to aid those affected by last year's Hurricane Harvey.
One of the goals in the future is to extend service to those affected by the same hurricane in Puerto Rico, as well as continue to be a strong partner in the areas in which they are already involved.
"It is such a humbling experience to be able to put up a house with your own bare hands," Somerville said. "Everyone should have that opportunity, including Service Scholars. All walks of life are welcome to serve."
SERVICE SATURDAYS

Last year, one of the challenges for Service Scholars was transportation to events, since class schedules would conflict during weekday service opportunities. To combat this problem, Service Saturdays and Sundays have been implemented to encourage students to carpool with one another to the service sites without class conflicts.
"The fact of the matter is not that we don't have enough dedicated student volunteers," Somerville said about the struggles of the prior year. "Because we do; we do have students who are willing to serve. The issue lies solely with transporting these students to the different events."
While there will still be weekday service opportunities, the fall service calendar indicates the dates of all of the events. All of the service events are open to the Service Scholars as well as the entire Stevenson community.