Student research wins award at conference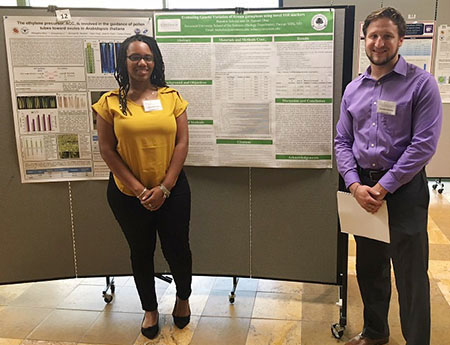 While many students hope to battle through four or more years of schooling to accomplish goals that strongly affect their lives, hearing about peers achieving extraordinary feats can be not only motivating, but also refreshing.
Many students must wait for their opportunity to make an impact in their field, but Stevenson University junior Brandon Scholze had the chance to further his interests in science and solidify himself as a top student when he was chosen to be a part of a school-based research study that ultimately led to him winning an award at a statewide conference.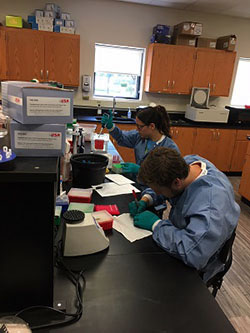 Scholze began studying at Stevenson University in the fall of 2016 with the intention of obtaining a degree in biology, which would allow him to further his education at medical school. Throughout his time at Stevenson, Scholze has become involved in numerous extracurricular activities; in addition to his heavily loaded biology curriculum, Scholze was a member of the club ice hockey team and intramural sports.
Even though Scholze's rigorous schedule consumed most of his time, he was not hindered from pursuing other opportunities that would be beneficial for his future in the science community.
THE MID-ATLANTIC PLANT MOLECULAR BIOLOGY SOCIETY CONFERENCE
From the end of May to mid-August, Scholze was one of only a few applicants to be chosen to participate in the mentor-mentee Summer Science Scholars Research Program (S3RP) at Stevenson University.
To apply for S3RP, students send in written applications and meet with the professors, who then choose which student they would like to work with. Scholze was paired with Dr. Samuel Obae of the biology department.
During their research, Scholze created a poster that displayed the progression and success of their work, which was ultimately presented at the Mid-Atlantic Plant Molecular Biology Society (MAPMBS) conference in Laurel, Maryland.
At the conference, which has been occurring for 35 years, professors and scientists gather to observe the work of both graduate and undergraduate mentees. There were 25 students in the undergraduate category, one of whom was Scholze, and they all presented their research to the observing professors and scientists.
After all of the posters were examined, Scholze was chosen as the top undergraduate researcher; he was awarded $100 and a certificate for his accomplishment.
Scholze said this opportunity was "probably the most beneficial thing I have done for my future career."
"My parents were proud of me and so was Dr. Obae. Winning the award at the conference didn't hurt, but just having the opportunity to attend was amazing exposure and great for building my resume for med-school; I am very grateful for getting the chance to work with Dr. Obae and present my research in front of so many influential people."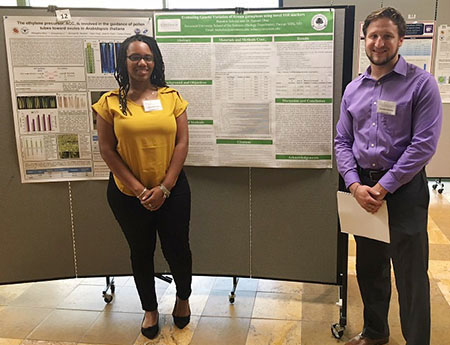 Scholze is proud of his work because his experiences show other students that completing award-winning research, impacting their future goals and drastically increasing their value when applying to graduate schools is possible. Scholze is one of the first science students to achieve such success at Stevenson University, which was something Obae thought was possible when he chose to work with him.
Obae chose Scholze as his mentee out of several students and is elated with his decision.
From the first interview with Scholze, Dr. Obae stated, "Brandon had lots of potential, and there was no doubt that he will be very successful in the future." Obae could only state good things about Scholze and would relish the opportunity to mentor him again in a future research project.
After the excitement from family and friends faded away, Scholze began another semester at Stevenson this fall. Although he is still dealing with a difficult school schedule, Scholze has continued to maintain a reputable GPA. Scholze is looking to complete his degree in 2020 and move forward with medical school. From the looks of his accomplishments and Obae's comments, Scholze has nothing but success on the horizon.
Donate to Stevenson Villager
Your donation will support the student journalists of Stevenson University. Your contribution will allow us to purchase equipment and cover our annual website hosting costs.