Coach, Olympian, leads with experience
Stevenson University's field hockey coach and a member of the United States Field Hockey Association Hall of Fame, Laurel Martin has received many accolades in the field hockey world.
Martin was a cross country runner, gymnast, basketball player, cheerleader, and a star in track and field before playing field hockey. Her middle school field hockey coach told her, "You have all the attributes to be a great field hockey player. You're quick and fast and would be great on the field."
Although at first, Martin wasn't attracted to field hockey, she tried the sport, attending a field hockey camp the summer before her first year of high school. After the camp, she tried out and made the women's varsity field hockey team as a freshman.
Eventually, Martin went on to have great seasons as one of the top recruits in her high school class.
"I was the only high school player who made A camp," said Martin, referencing the national under-21 team trials that includes the top 60 players in the nation. Numerous college coaches and scouts attended the trials, and one of the schools that offered her a full scholarship was the University of North Carolina.
"I had visits to other fine schools, but UNC was what I loved," said Martin.
During her time as a Tar Heel, Martin went on to be a three-time All-American, playing for UNC's 1989 national championship team. She was also named team captain before the World University Games in Sheffield, England, played in the Pan-American Games in Havana, Cuba., and played in the Olympic Qualifying Tournament at Auckland, New Zealand, in 1991.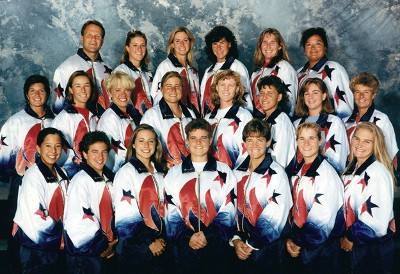 In 1994, Martin played for the U.S. National Team during the World Cup held in Dublin, Ireland. She returned to the Pan-American Games, this time in Buenos Aires, Argentina, in 1995 and was a United States Olympian in 1996 in Atlanta.
"The peak of my field hockey journey was walking in the opening ceremony [in Atlanta]. Hosting the Olympics in our country, knowing what I represented… it was like nothing I'll ever experience again. I remember looking to find my family desperately in the crowds. Finding their faces, walking under the lights, reflecting on how hard I had worked to get to where I was… It was at that moment I knew I had finally achieved my life-long dream," said Martin.
After graduation, Martin was offered several coaching positions at Division I universities, but instead chose to coach at Lebanon Valley College, which at the time had one of the top Division III women's field hockey teams in the nation. The team had four final four appearances and one Eastern College Athletic Conference championship.
Martin ultimately left Lebanon Valley when Stevenson University offered her better opportunities. "I'm very much committed to people and not universities," said Martin. She is currently in her eighth season at Stevenson University.
Martin led the United States at the 2018 International Hockey Federation, Masters World Cup in Terrassa, Spain, in the summer of 2018, where she coached the U.S. Over-45 team.
According to the Stevenson University Athletics website, "The Masters World Cup is the field hockey world cup for master national teams from all over the world, with competition including both men and women teams. The EXIN Masters World Cup takes place every two years and is promoted since 2012 by the International Master Hockey Association and is worldwide recognized by the International Hockey Federation."
Martin's bio on gomustangsports.com notes that the Mustangs have steadily improved as one of the premier contenders in the region. In 2015, Stevenson reached the Middle Atlantic Conference (MAC) Commonwealth championship game for the first time in program history and later advanced to the ECAC Mid-Atlantic championship game for the second straight season. This year, the Mustangs are 5-8 overall and 1-2 in the MAC as of Oct. 8.
Kali Martin contributed to this article.
Donate to Stevenson Villager
Your donation will support the student journalists of Stevenson University. Your contribution will allow us to purchase equipment and cover our annual website hosting costs.