Two Stevenson University professors are researching the pedagogy of J.K. Rowling's "Harry Potter" series, using the books as a lens for mentorship and teaching first-generation college students.
Dr. Jamie Goodall is an assistant professor of history at Stevenson. She and Dr. Kerry Spencer, a senior lecturer and science writing professor, are currently researching to write a chapter of an upcoming book, "The Pedagogy of Harry Potter," after answering a call for papers about how to use the world-renowned series "Harry Potter" in their teaching. While there have been several academic works published about the science and linguistics of Harry Potter, there has yet to be a work concerning the analysis of teaching methods.
Goodall and Spencer may differ in their disciplines but are alike in their love for J.K. Rowling's hit series as well as their passion for teaching. Both first-generation college students, they have drawn from their own experience as inspiration for their chapter.
Goodall utilizes an analogy to describe the difficulties a first-generation college student faces.
"First-generation students are a lot like 'muggle-borns,'" Goodall said. "'Muggle-borns' are wizards and witches born to non-magical families. They must navigate the wizarding world, completely foreign to them, and simultaneously attempt to pass their classes and survive attending Hogwarts. This serves as a great analogy to first-generation students, as they, in a way, have to do the same thing."
Without experience or family knowledge to rely on, first-generation college students must navigate the world of advanced academia on their own. The struggles faced by characters within the novels are parallel to those faced in reality, according to Goodall. She described students as being perceived differently by both their peers and instructors for being first-gen, seen as "less than" or "outsiders."
Spencer emphasized that their research not only serves as an analogy for first-gen students, but also provides tips and analysis of teaching methods throughout their chapter to aid teachers as well as students. The book is not meant only for fans of "Harry Potter," and it is not necessary to have read the books or seen the numerous film adaptations in order to understand the concepts and methods discussed in the text.
Currently in the draft stage, their research of teaching methods has found a very recent spike in sexual relationships between students and faculty members through several published case studies. Spencer connected the abuse of power and use of emotional manipulation to one of the "Harry Potter" series' characters, Dumbledore's, own methods of manipulating students to do his bidding while endangering themselves in the process.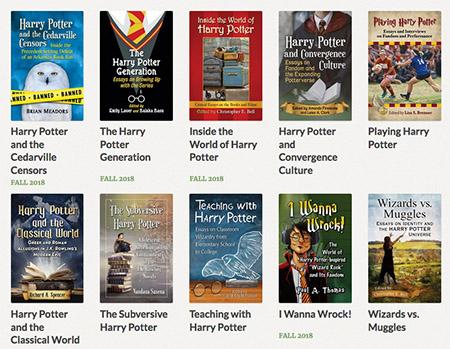 Spencer explained, "Though this is an unfortunate and depressing truth, it has to be confronted and addressed. Power usage persists over time, and teachers must be in-check about what is appropriate and what is not."
The finished chapter will be part of a 14-chapter-long book exploring the educational aspects of "Harry Potter." To be published by McFarland Publishing in March 2019, the book will feature work from faculty members from across the United States. Some of the additional subjects to be covered within the book include the role of academic librarians, active learning, individual learning features and different approaches to composition.