Stevenson women's volleyball team is battling their competition and their own adversity, as they work for a successful season despite facing a tough schedule early on.
During the start of their 2018 season, the team faced strong competition in some early, tight five-set matches where they fell short to nationally ranked Christopher Newport University (#22) and Muhlenberg University.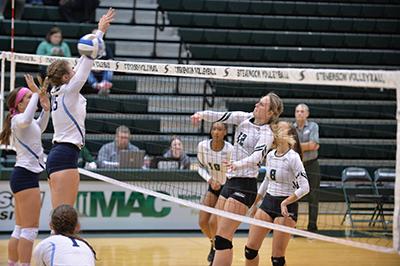 The Mustangs also had some tough losses in the middle of their season to ranked Johns Hopkins University (#25)  and fell to Stockton University and Washington and Lee University on the road.
Head coach Dave Trumbo said these games were great for the program, but the hardest part is maintaining the team's confidence through these losses. He emphasized that the team needs a short memory, and can't hang their heads for long because they haven't lost sight of their goals.
The mustangs beat Susquehanna University in 3 straight sets on Oct. 16, moving to 16-11 overall on the season. In conference the mustangs are 6-0 , with their closest game going into five sets against Lycoming University.
At the end of September, they beat Arcadia University at home, with a huge fan base to support them. Junior outside hitter Katie Leftridge had a match-high 17 kills and contributed 5 digs that game, according to gomustangsports.com. Trumbo says this match especially had a major effect on the momentum of the 2018 season.
Along with their in-conference play, the Mustangs have found confidence through their success against competitive teams. On Oct. 13, Stevenson faced Kean University and Cabrini University out of conference, both of whom played in the NCAA tournament last year. The Mustangs won the tri-match, beating both teams in straight sets.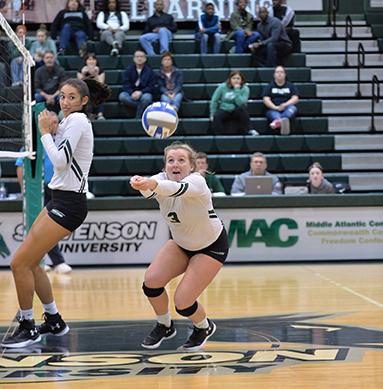 Trumbo said that this positive energy puts the Mustangs in a great position toward reaching their goal of defending their title in the Middlle Atlantic Conference (MAC) championship. Winning the conference title would give the Mustangs an automatic bid to the NCAA tournament. This is an essential step in achieving their main goal of winning the national championship.
Junior middle hitter Victoria Prokic says she is more excited for playoffs this year than any year before. She is proud of the team coming together through some adversity this season, and thinks they will be ready to face any opponent in the post-season.
The Mustangs travel to Elizabethtown College on the Oct. 18. With only four games remaining, playoffs are just around the corner as first round of MAC playoffs will start on Oct. 29.
The Mustangs have high expectations for themselves because of their history of being a competitive team. Last season they finished 33-2 and graduated two All-Americans.