The men's soccer team at Stevenson University has its sights set on the Middle Atlantic Conference (MAC) playoffs as their regular season is coming to an end with four games remaining as of Oct. 17.
The Mustangs are currently 8-6 in overall play and 2-3 in conference play, with hopes of bringing home their first MAC championship. Three of the four remaining regular-season games are against MAC opponents.
Head coach Graeme Millar has great confidence that his squad can continue their success on the field, demonstrating their hunger to win after a recent five-game win streak.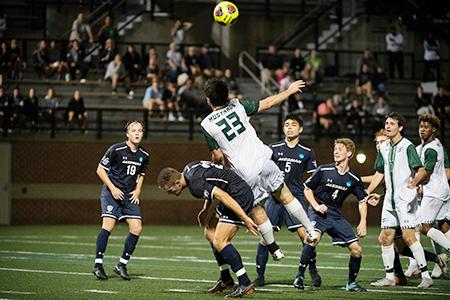 "Although we lost a close match to nationally-ranked Messiah, scoring a goal meant a lot to the squad and proved they could win some games," he said.
On Oct. 13 the team suffered a tough loss to Lebanon Valley College. In the 48th minute, the Mustangs succumbed to a penalty kick that was a huge setback as Millar disagreed with the referee's ruling. However, the Mustangs failed to strike back as they let up a goal in the 81st minute.
This is Millar's 13th year at Stevenson, having served as the women's head coach for nine seasons (2007-16). During that time, he won the MAC once before and knows what it takes to win. Millar is the winningest coach in the Mustang's program history and continues to prove that title.
Millar said that he believes the program has found such success through the immense support from Stevenson University, noting that athletic director Brett Adams sought to create facilities that offer the best possible experience and support from the coaches and trainers, giving players a great opportunity to succeed.
Millar believes the squad's greatest obstacles for the remainder of the season will be having mental toughness and putting together a complete 90-minute performance.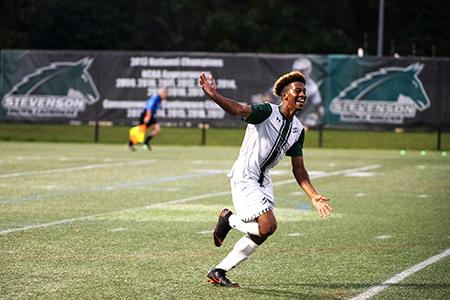 "Consistency is important especially for winning conference games," he said. Millar noted that of the final four conference games, only one is at home, another obstacle the Mustangs must face.
The Mustangs' last win was against Hood College on Oct. 9 as they edged the Blazers 3-2 in an exciting back-and-forth game. Junior midfielder D.R. Medtart scored twice, and freshman goaltender Matt Stellitano combined for eight total saves. Millar said the team showed great characte" and was able to grind out the win.
On Oct. 17, the Mustangs played at Albright College and ended in a 0-0 tie in double overtime.
With two road games awaiting them, the team will play at Haverford College on Oct. 23, and at Widener University on Oct. 23. The Mustangs will host Alvernia University for Senior Night at Mustang Stadium at 7 p.m. on Oct. 20. MAC Commonwealth semifinals will begin on Nov. 1.