For the second year, the mathematics and physics department are challenging the minds of Stevenson University students, faculty, and staff through an escape room activity.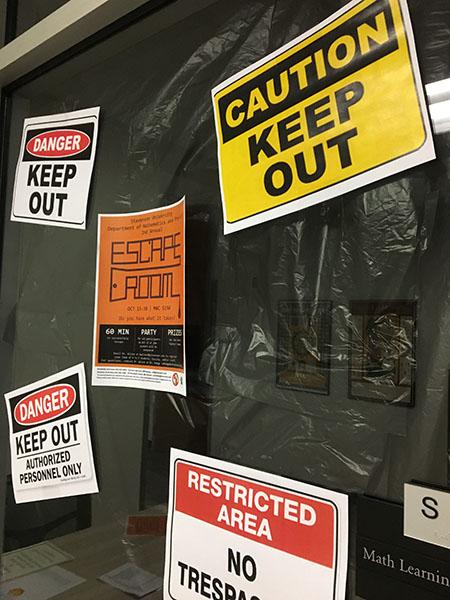 The room, designed by Dr. Benjamin Wilson, assistant professor of mathematics, and Dr. William Hodge, associate professor of physics, offers participants the chance to escape by solving puzzles, riddles, and various other forms of confusion and brainteasers.
The room is designed for four to five people to explore and brainstorm in. Participants are given 60 minutes to figure out how to get out of the room, or they fail.
This year, the escape room is Halloween-themed. Last year, the room had a science theme, but, Wilson said, "We decided after that, when we were getting teams that were signing up all over the university who weren't necessarily math or science students, that we should go with a more broad theme."
According to Wilson, the theme and the puzzles themselves help to guide the ultimate aesthetic of the escape room.
"We'll meet and talk about different ideas we have for puzzles, and types of puzzles that we like to do," said Wilson. "One of our biggest driving forces for these puzzles is that we want them to not be any sort of course-specific or science or math-related specific material." The idea is for everybody who participates to solve general puzzles not requiring any specific expertise.
Wilson said that he learned a lot from last year's escape room, especially about how people approach problem solving, but also about how to balance a puzzle's difficulty.
"I learned that when you're creating something, if it seems really easy, it's probably going to be a lot more challenging than you think, because when you're going through one of these escape rooms, you have no idea where each puzzle is going."
Last year, Wilson felt that his team struck the right level of challenge with the escape room, as one quarter of the groups managed to finish in under an hour.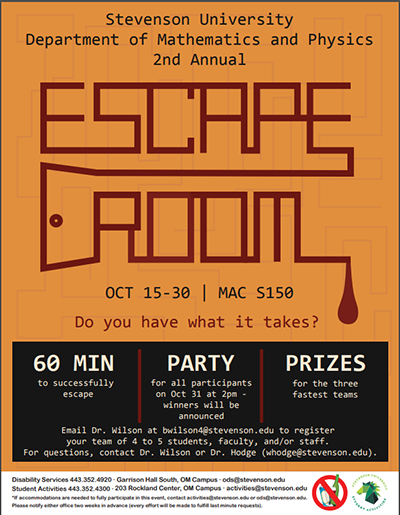 "It's challenging, but not impossible," Wilson said, adding that it was "a blast" to watch the groups in action. It was interesting for his team to see who tackles what puzzles, how they go about it, and how peoples' personalities emerge during the exercises in creativity and puzzle solving.
All puzzles this year are completely new, according to Wilson, so nobody should have any kind of advantage coming into the new escape room, even if they participated last year. However, that being said, Wilson said that the team that wins is most likely going to be the team that can divide and conquer, apply teamwork, and create some form of action plan.
Ultimately, Wilson hopes to match the levels of success they had with last year's escape room. "Hopefully, we've succeeded again this year," he said.
Those looking to sign up to try the escape room can either email Wilson through campus email or go to the sign-up link found in the Students section of the SU Now Portal.