Arts Alive! exhibit rolls through campus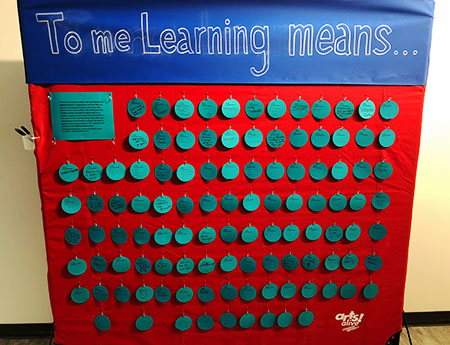 The Advertising Campaign class has been given a unique opportunity to reach the Stevenson community through the Arts Alive! initiative, a program established "to bring art exhibits, music and books together in collaboration," said business communication professor Stephanie Verni.
Verni and her Advertising Campaign class take a deep dive every week to facilitate thought-provoking questions for open-ended responses from the Stevenson community.
Students are tasked with getting their peers' attention through various different types of media, relying on their understanding of advertising campaign tactics to execute the project. "The blue chalkboard, which can be found at the entrance to Owings Mills North, was just one of the many ideas that students came up with from their work," said Verni.
The students have to not only generate ideas meant to improve the Stevenson community, but also incentivize their peers to respond to their questions. Accomplishing this means that the students need to rely on their understanding of the advertising concept of positioning.
"It was very important for students to think about where they were placing their questions, because in advertising, you need to make people think deep about your brand, and then they can get attached to it," said Verni.
This is not the only initiative that the Advertising Campaign class is currently developing. Christine Favata, a senior business communication major, has shared another unique idea with the rest of the team.
"Rain paint!" Favata said. "When it's raining, I want students to get some encouragement while they are walking to class." This idea for spreading positivity when it's raining will (somehow) allow the paint to appear only when it is raining, so that when students inevitably look down at the ground in the rain, they see positive messages, she explained.
Favata is taking on this project with a lot of passion. "How often does someone of power—in this case our university president—ask a student what he or she thinks and wants to change about the university to positively impact it for the coming years?" asked Favata.
Favata hopes that in the future, student ideas like this will not only be heard, but seriously considered. "As a senior, and as someone who has worked hard here and loves this school, I would love to see more of our ideas actually come out of their shell and into the community," she said.
The Advertising Campaign's current response board can be found rolling through the halls of the Manning Academic Center in Owings Mills North. All in the Stevenson community are encouraged to participate.
Donate to Stevenson Villager
Your donation will support the student journalists of Stevenson University. Your contribution will allow us to purchase equipment and cover our annual website hosting costs.