Student activities promotes SU After Dark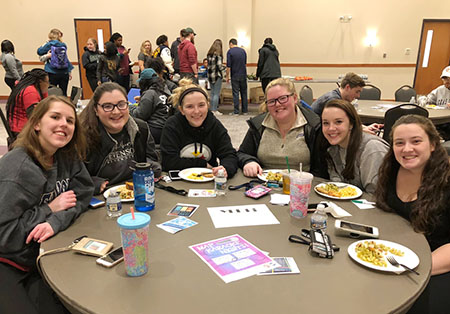 Stevenson University (SU) After Dark gives students a break from the books and an opportunity to participate in late-night on-campus events. Students living on campus often go home on the weekends because they believe there are not enough events on campus. SU After Dark was an initiative created by President Elliot Hirshman last year to change this belief and provide more engaging late-night events for students in order to keep them on campus.
Jenna D'Onza, the assistant director of Student Activities, explained that SU's After Dark initiative is to encourage students to stay on campus during the weekends and help them engage in safe, fun activities.
The Office of Student Activities created SU After Dark last fall to "brand" late-night events at Stevenson. SU After Dark includes many activities and events created by the Office of Student Activities in partnership with different clubs on campus. In order for programs to be considered SU After Dark events, they generally need to occur between Thursday and Saturday nights after 10 p.m.
There is currently a fall 2018 event calendar posted on the SU Now Portal. Information about events are emailed to students through the "Mustang Weekly Scoop."  In addition, students can also receive text notices from Stevenson's SU text alerts that message students about when and where events are taking place.
---
 Events planned for the months of October and November include the following:
MAP THROWBACK TRIVIA Oct. 25
9-11 p.m. Claire E. Moore Room
Trivia night, hosted by Mustang Activities and Programming, is held monthly. The trivia theme changes each month to further engage students and keep them coming back. Each team can have up to eight participants and can save their table by signing up their team at The Rock. The first, second and third place teams will win a prize.
ISA CARIBBEAN GET DOWN Oct. 26
10 p.m. to 1 a.m. in the Rockland Banquet room
The International Student Association is hosting an event to captivate Caribbean culture and traditions. The event will include food, performances and various activities.
MAP PAINT NIGHT Nov. 1
9-11 p.m. in the Claire E. Moore Room
Mustang Activities and Programming will be hosting a paint night for students. An instructor will demonstrate how to paint a portrait of a Dalmatian. Sign-ups start Monday, Oct. 22 through the MAP website.  There are 35 spots available; once the spots fill, a wait list will open.
RISE QUEEN OF HEARTS SADIE HAWKINS DANCE Nov. 2
10 p.m. to midnight in the Rockland Banquet room
Students are welcome to participate in a non-traditional Sadies dance hosted by the Reach out, Inspire, Strengthen, Empower club (RISE). This dance is considered non-traditional because females are encouraged to ask males as their date for the event. Typically at Homecoming and other school-sponsored dances, the males are expected to ask the females. This reversal empowers women to ask whom they want, instead of waiting for it to happen.
OLAS DIA DE LOS MUERTOS (DAY OF THE DEAD) Nov. 5
10 p.m. to midnight in the Rockland Banquet room
The Disney Pixar movie COCO will be shown in the Rockland Banquet room, hosted by the Organization for Latin American Students (OLAs). There will be snacks provided.
---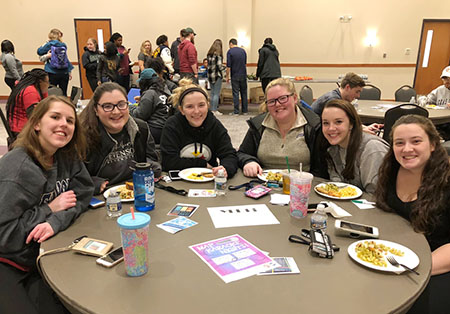 Stevenson University student Jody-Ann Sommerville said that she is most looking forward to "ISA Caribbean Get Down" because she has an interest in joining the club and would like to see how they plan and execute their events. Because she is from the Caribbean, she is curious to see what this event will be like.
Students can anticipate to see more events in December and during the spring semester.
Clubs and organizations interested in hosting an SU After Dark event in the future can fill out the SU After Dark form found on the Student Activities portal or contact Phillip Gatling Jr. through campus email.
Co-Editor-in-Chief Maya Murphy contributed to this article.

Donate to Stevenson Villager
Your donation will support the student journalists of Stevenson University. Your contribution will allow us to purchase equipment and cover our annual website hosting costs.