Women's ice hockey sets high expectations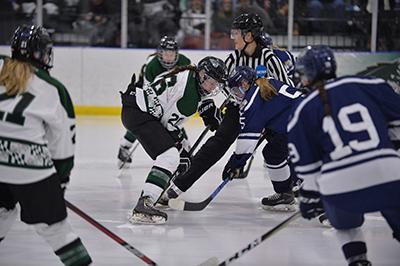 Stevenson University's women's ice hockey team is hoping to build off last year's historical season by winning their second Middle Atlantic Conference (MAC) championship and hoisting the United Collegiate Hockey Conference (UCHC) title cup for the first time.
In addition to aiming for a successful season, the team will travel to Europe this winter to face some of the world's best teams.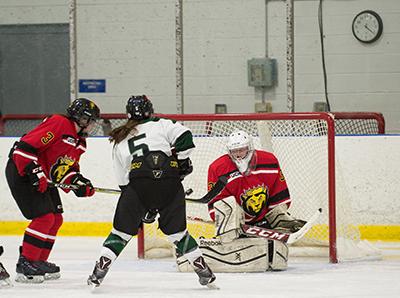 The 2017-2018 season finished with the team watching their opponent raise the inaugural UCHC banner. Although they fell short of their ultimate goal of winning the UCHC, the Mustangs achieved a feat no other women's ice hockey team in school history has done: winning the MAC ice hockey title. The team has their sight set on winning both championships this year.
In December 2018, the team will travel to three European countries — Germany, Italy and Austria — to play some of the most competitive international teams. They will be playing four games in Europe, while traveling from Dec. 15 to Jan. 3.
Junior goaltender Annie Smyth-Hammond said that it will be a trip of a lifetime. "I cannot wait to travel the world with this group of people I've grown so close with," she added.
This season's team will look different from past years, as nine seniors graduated from Stevenson University at the end of last season. With the loss of their core dependable players, including Chelsea Blackburn, Monica Pozuc, and Natalie Rosendahl, the team is looking for new players to step up and fill important roles.
Coach Tracy Johnson said she believes that the new crop of nine juniors and seniors can pick up the slack necessary for the team to be successful. The team's juniors include Carly McGee, Jordan Pirrello, Allyson Barlow, Rachel Grewette and Annie Smyth-Hammond, with the seniors being Catie Derosa, Maddy Ricci, Allie Sabatini, Kellan Wittman and Cierra Siemasko.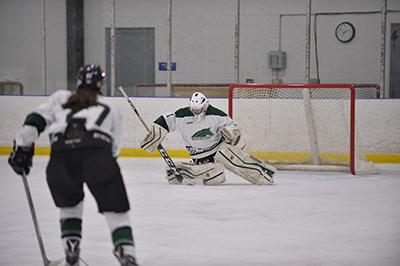 In addition to relying on new players for success, Johnson has recruited 10 new freshmen who look to earn a spot on the starting roster. Both Johnson and Smyth-Hammond expressed their excitement for the 10 newcomers, adding that Nicki Kendrick is one to watch, as she scored three goals in the team's final exhibition game. Kendrick has made a strong first impression, according to Johnson.
While Johnson's goal for the Mustangs is winning championships, she said that the team's success will be a game-by-game basis. Her short term goal is to have a better start to the season than last year, when they started off with an 0-7-1 record. This goal is more achievable this year due to a less difficult schedule.
Despite a less challenging start, the mustangs will still face tough competition throughout the season. Johnson said their toughest opponents will be Elmira College, William Smith College, Endicott College and UMass Boston.
The team opens the season on Oct. 26 as they travel to take on UMass Boston. The Mustangs will have their first home game on Nov.2 against Manhatanville College. All home games are played at the Reisterstown Sportsplex.
Upcoming Home Games
November 2 at 7 p.m. – Manhattanville
November 3 at 7 p.m. – Manhattanville
November 16 at 7 p.m. – Nazareth
November 17 at 7 p.m. – Nazareth
January 5 at 3 p.m. – Wilkes
January 11 at 7 p.m. – Chatham
January 12 at 3 p.m. – Chatham
February 9 at 7 p.m. – Neumann
February 15 at 7 p.m. – Elmira
February 16 at 3 p.m. – Elmira
For more information about the team and their schedule, visit gomustangsports.com.
Donate to Stevenson Villager
Your donation will support the student journalists of Stevenson University. Your contribution will allow us to purchase equipment and cover our annual website hosting costs.