The Stevenson University men's ice hockey team is gearing up for its third season back on the ice.
The defending Middle Atlantic Conference (MAC) champions hope to continue their success in conference, as well as set their sights on winning the United Collegiate Hockey Conference (UCHC) title.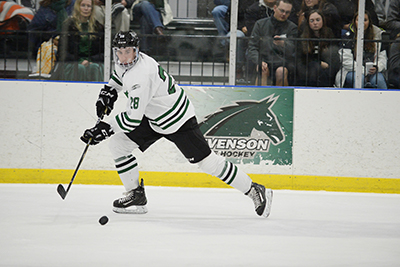 The Mustangs are currently picked to finish second in the MAC, according to the 2018-2019 MAC Men's Ice Hockey Coaches' Preseason Poll.
The team will open at home against a non-conference team, SUNY Morrisville, on Oct. 27 at 3 p.m. before beginning UCHC conference play against Chatham University at home on Nov. 3.
Having lost a core group of seniors in Jacob Cafferty, Mike Davis, Doug Rose, and Jordan Watt, the team is looking at their returning players, as well as the new freshmen, to make an impact on the ice. Head coach Dominick Dawes said the team is trying to take the next step in their progress as a team. Dawes says the team motto is "do more," and their next goal is to win the UCHC and get into the national tournament.
Tom Peffall, a new assistant coach this season, joins the Mustangs from the Philadelphia Rebels, which was a part of the North American Hockey League. Alexis DeMolina has been appointed the team's graduate assistant for this season, coming from Wisconsin-Superior, as he works toward his master's degree in communication studies.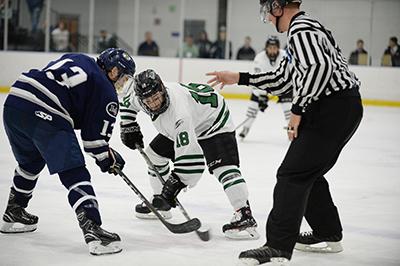 Regarding the upcoming season, junior forward Justin Stelzer said, "We're excited to finally have everybody on the team be a homegrown Stevenson guy." The upperclassmen currently on the team were recruited as first-year students by Stevenson and did not transfer into the school, as some of the seniors who graduated had done. This year, both Dawes and Stelzer named Ryan Patrick as one of the freshmen who are here with the expectation to make an impact. Returning alternate captain, Austin Swingle, will look to continue to lead the team both off and on the ice.
Stelzer said one of the Mustangs' biggest opponents will be Manhattanville College, last year's MAC runner-up and is currently picked to finish first in the MAC, according to the preseason poll. Utica College will also be as a tough team for Stevenson as they climb their way towards winning the UCHC and compete for a national bid to the NCAA tournament. A new team to join the MAC this year, Wilkes University, will first face the Mustangs on Nov. 9.
During Thanksgiving weekend, the Mustangs will travel to Wisconsin to face the defending NCAA Division III champions, St. Norbert College, as well as play Lawrence University. The Mustangs face a 25-game schedule, excluding playoffs.