Putting on an event for approximately 200 college students is no easy task, but the students at Stevenson University have been entrusted with this responsibility.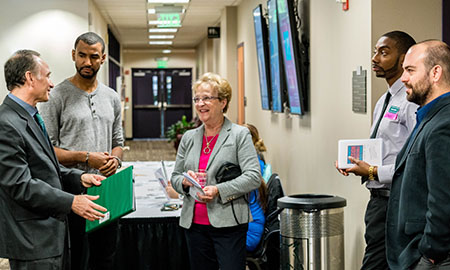 This year's fifth annual Leaderstang event will take place on Nov. 4 from 11 a.m. to 4 p.m. in the Rockland Banquet room. The event is set up as a professional leadership conference that includes four general breakout sessions, two service project breakout sessions, and a keynote speech that is accompanied by lunch.
At least two individuals from every club or organization on campus are invited and required to attend this event, as well as a limited number of first-year students who show leadership potential.
Although Leaderstang is not solely run by students, they are responsible for planning and organizing major aspects, including picking the theme, nominating faculty and staff members to present, and selecting and reaching out to the keynote speaker.
Said Lindsey Weishaar, president of Stevenson's National Residency Hall Honorary (NRHH), "I have been helping to plan this event since back in May before summer break." She is contributing to the event to make sure everything runs smoothly.
In 2009, NRHH held an event called Leadership Day that was separate from the Leaderstang event, which was originally sponsored by the Office of Student Activities. The notable difference between the two events was that the former was small and primarily run by students, whereas Leaderstang is larger, better financed, and mostly organized by professional staff members.
Several years ago, it was decided that both events would be combined to make a larger and improved Leaderstang event.
"By bringing these events together, we were able to give students an even better experience," said Evan Huckfeldt, assistant director of Residence Life. "Leaderstang is student-run with professional staff support." Residence Life and Student Activities are still responsible for logistical and financial aspects of the event, and students supply the ideas and initiatives needed to make this event possible.
The theme for this year's event is "Intentional Excellence," said Philip Gatling, assistant director of Student Activities. This is a broad topic that can range from communication skills to self-care.
This year, the students involved in planning Leaderstang were able to recruit a Villa Julie College alumna to present the keynote speech.
Dr. JoAnn Ioannou, who obtained her bachelor's degree in nursing from Villa Julie, will speak at the event. She is a doctor of nursing who is well known in the Baltimore region and who has leadership experience in settings including Greater Baltimore Medical Center, Inc. and Johns Hopkins Hospital.
Additionally, Ioannou was acknowledged as a 2018 Honored Nurse by Baltimore Magazine for being one of the top 50 nurses in the region, and has had several TV appearances on WMAR AMB2-MD to discuss her career.
Even though Weishaar said that it takes a lot of work for students to plan this event, she is appreciative of Huckfeldt's and Gatling's contributions, noting that "this event wouldn't be nearly as successful as it has been" without their help.