For the fifth consecutive year, the Faculty in the Halls program will sponsor its annual Thanksgiving dinner for students living in the Susquehanna, Patapsco and Western Run residence halls on Nov. 12.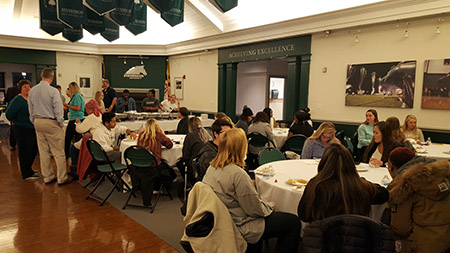 First-year residents will experience a Thanksgiving dinner with their peers, their resident assistants, faculty members, and others in the Stevenson community.
Faculty in the Halls (FIH) is an initiative in which faculty volunteer to sponsor social and academic events for first-year, second-year, and some transfer students to encourage them to engage with the community outside of their rooms. While the faculty typically address academic concerns, they are available each week to interact with their residents on a variety of topics.
Professors Romas Laskauskas, Dr. Leanne Bell McManus, Ph.D., Laurel Moody, Christine Noya, and Chip Rouse are the faculty members organizing this year's dinner specifically for the first-year students.
The event will take place in Ratcliffe Community Center with two seatings, at 5:30 and 6:30 p.m. The menu will include turkey, stuffing, green beans, pie, and several other seasonal options (including vegan options) purchased from Boston Market and other local sources. Resident assistants will help serve the food buffet-style.
In past years, the first-year residents had Thanksgiving dinner on different days, but this year, all three residence halls will be combining for one dinner, offering residents in the three halls a chance to meet one another and celebrate together. Students are encouraged to invite their favorite professor or staff member to join them in the feast.
Laskauskas, FIH in Susquehanna and assistant professor of business administration, said the event is a way to remind students that learning at Stevenson can exist outside of the classroom. He described the holiday as an opportunity to share different cultures and practices because everyone celebrates Thanksgiving differently, if at all. According to Laskauskas, in a previous year, an international resident said they had never tasted pie. Surprised residents immediately pointed out the different pies being served at the event and encouraged the international student to try the different foods.
Rouse, FIH for Western Run and associate professor of business communication, said the goal for this year's event is to increase attendance while still providing a enjoyable meal. While the previous years have been successful, reaching out to more students is always a goal.
"It's one more piece of a bigger puzzle," Rouse said. "Letting students know they have another resource outside of the classroom – that's the whole point of Faculty in the Halls."
For more information about the event, students can contact their resident directors or resident assistants.