The Mustangs' men's and women's swimming teams had a slow start to the beginning of their seasons. However, the way they swim at the conference meet in February 2019 will be the ultimate determinant of their success.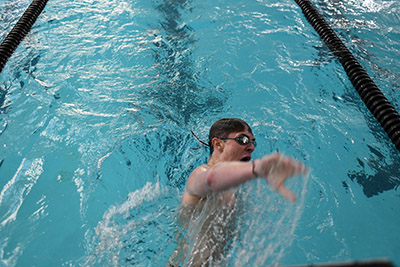 Head coach John Stuhltrager explained how his message to the team does not change throughout the season: "All of our hard work will pay off in the end," he said.
While the goal is to try and win every race, there is also the big picture goal, which includes the conference meet. Stuhltrager said the team is working very hard day in and out to perfect different aspects of each swimmer's craft, including stamina, endurance and speed. They are hoping that their hard work will eventually return huge dividends as the conference meet approaches, he added.
Junior Melanie Milam said the women's team is unique because of how small the team is. Each swimmer has a different role; thus, the team chose not to pick captains, and all maintain a sense of responsibility, said Milam.
Stuhltrager explained how when they swim against bigger schools, they approach the meet differently as opposed to other meets. The swimmers should have the mentality that they will swim every event as hard as possible and to the best of their ability, while also never giving up.
Stuhltrager has high expectations for all the swimmers. He believes that at some point each of them will exceed their previous accomplishments in some way or another. Several of the goals Stuhltrager has for the team at the conference meet include winning several individual titles, winning a relay title, achieving a national cut in a relay and individual event and having each swimmer accomplish a lifetime best result in a minimum of two events.
The Mustangs traveled to Kings College on Nov. 10, where the women fell 124-63 and the men fell 154-2. Several bright performances included sophomore Brian Brown and senior Colby Stein. Brown took first place in the 1000-yard freestyle with a time of 11:46.72. Stein then grabbed her first win in the 50-yard freestyle with a time of 26.67. She followed up with a first-place finish in the 200 backstroke with a time of 2:18.38.
In their prior conference meet against Lycoming College, senior Adam Michalak won the 50-yard freestyle with a time of 26.34. On the women's side, senior Isabelle Ramsland picked up three first-place finishes in the team's narrow loss to Lycoming, 93-89.
The Mustangs will finish out the month of November at the Diamond City Invitational and will then go on to face Lebanon Valley College on Dec. 1.