Mock Trial team raises the bar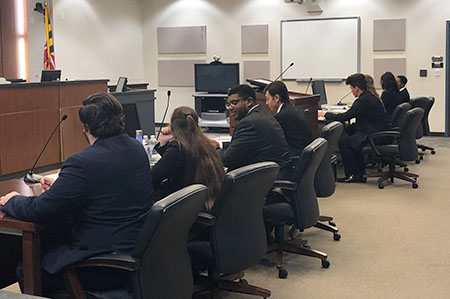 As Stevenson University's Mock Trial team reaches its halfway point in the season, the students and coaches have a lot to be proud of. However, they are not finished yet.
Over the years, SU's Mock Trial team has grown exponentially. The team currently consists of 20 members—double its size from 2016—and is split in two entities. The A team (12 members) and the B team (eight members) are associated with the American Mock Trial Association (AMTA), and they compete in multiple regional invitationals and scrimmages during the season.
At their most recent invitational, hosted at Elizabethtown College, both teams brought home major awards. The A team came in first, while the B team ranked third in competition.
The team's head coach, Melanie Snyder, Esq., is now entering her seventh year coaching the Mock Trial team. She said that she is encouraged by the growth that this program, and this team, have exhibited.
"Everyone is growing in different ways!" she said.
A newer member of the team is professor Miranda Baxendale, adjunct instructor in law. She is currently in her second year of teaching at Stevenson, and she specifically focuses her energy on the Mock Trial program.
Due to the growth that both professors have seen in their students, they believe that their teams have the ability to raise the bar this season.
"Our program goal this year is to make it to Opening Round Championships," said Baxendale. "This would be the first time in program history [our] team made it to this level of competition, and we're working hard to get to that point."
The Mock Trial experience is meant to provide students with an example of how legal proceedings work. Thus, this experience can be an invaluable resource, specifically to legal studies majors who plan on pursuing a law career professionally.
Aaron Hergert, a member of the A team, said that his two seasons on the team have helped him tremendously.
"My greatest challenge was becoming more confident on the stand as a witness, and getting others to believe my testimony as much as I do," he said. This season, filling the role of an expert witness has given him the opportunity to hone this skill.
Despite all of the hard work that goes into the team, everyone on the team makes the experience as much fun as possible. Muskan Malhotra, a member of the B team, said that her favorite memory from this season was the drive back from their first tournament.
"It was full of energy and everyone was thinking of new ways to improve. The hype was there, and I saw that I loved being a part of my team," she said.
Mock Trial is offered as a class open to all majors; however, there is a competitive tryout session at the beginning of each season. The next round of tryouts will take place in September of 2019. For more information, interested students can contact Snyder or Baxendale through campus email.
Donate to Stevenson Villager
Your donation will support the student journalists of Stevenson University. Your contribution will allow us to purchase equipment and cover our annual website hosting costs.