Stevenson University welcomes a new fashion exhibit in the Manning Academic Center titled, "A Journey Through the Elements," created by students in the fashion design and merchandising programs.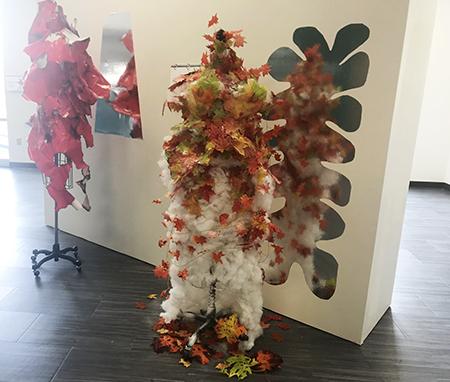 The annual exhibit  from the department of fashion design and merchandising features student-developed work from a concept created in their fashion design course. The exhibit focuses on three-dimensional draping and its relationship to the human body.
Sixteen students from the course were given a principle, an element and inspiration to create a sculpture in the form of a dress. The principle was movement; the element was texture; and the inspiration was nature. Students were required to use alternative materials — fabric was off-limits.
Students were tasked with designing and sketching 100 looks based on their sculpture and then had to finalize a 10-piece collection from the 100 looks.
The exhibit showcases both the students' sculptures and drawings to show the progress of concept development into fashion design. A sketchbook with each participant's drawings and collections hangs on the wall next to their sculptures for viewers to examine.
"I think it is important to showcase the students' work, their creativity, and the way that they think and see things," said Leah Aronhime, the studio manager for fashion design and merchandising who is teaching the course and hosting the exhibit. "I want them [the viewers] to see the progress of our students and the process of how they work."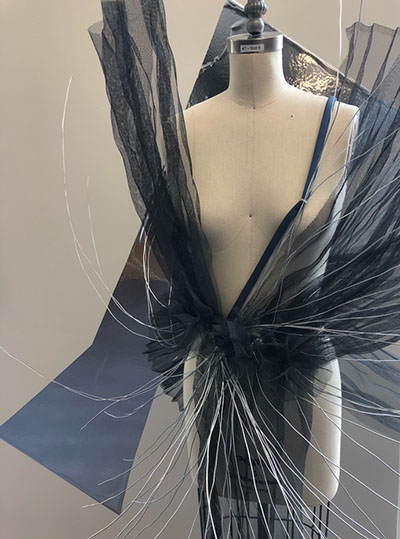 Gabrielle Hatcher, a student participating in the exhibit, used seeding dandelions as her inspiration. For her sculpture, she wanted to create a massive radiating wire design that resembled the way seeds radiate from the center of the dandelion. She used steel wire and an aluminum window screen to create her sculpture. Her sketches continue the idea of directional or radiating lines used in several different areas of garments.
"It took a lot of cutting my hands up, snagging my sweaters, and learning how to maneuver around such a large piece in order to create it [the sculpture], but I am very happy with how it turned out," said Hatcher. "Through the completion of the exhibit, I have enhanced my problem-solving skills, and was able to think of creative or unconventional ways to solve design problems.
Corinne Schroeder, another student designer, used fire as her inspiration. She wanted to capture its wildness and beauty in her sculpture. She achieved this by using shiny red gift-wrapping paper as the base to transform shape and texture.
"I want to be pushed out of my comfort zone and think more carefully about the concept of the design and how that can influence the materials, shape, texture, lines and the skills used to create it," said Schroeder. "I'm expecting to take away a new perspective from this fashion exhibit."
The exhibit is displayed on the second floor of the Manning Academic Center.