Women's ice hockey battles tough start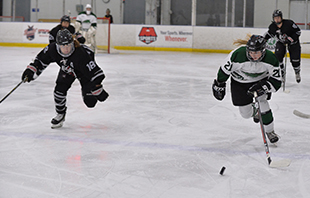 The Stevenson University women's ice hockey team is coming off a Middle Atlantic Conference (MAC) championship season, looking to continue that level of competitiveness this season.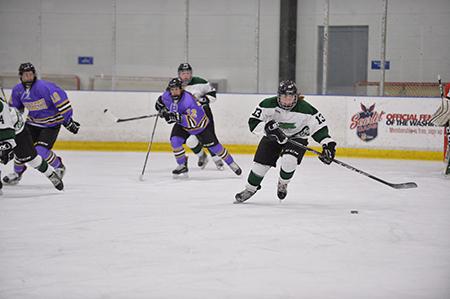 The Mustangs have struggled early this season, with a current record of 3-6-1. Sophomore forward and last year's MAC Rookie of the Year, Trinity Barcless explained that losing a core group of seniors is something that's been difficult for the team. But with a number of returning players and a strong incoming freshman class of 10, the Mustangs are working to get back on track.
Head coach Tracy Johnson said, "We have a young squad this year and we are trying to get everyone caught up to speed."
Freshman forward Nikki Kendrick has been one of the players who stepped up to fill the spots left vacant. Barcless said that Kendrick is very energetic and is constantly pushing her teammates to keep going. The freshman leads the Mustangs in points and goals so far this season. Johnson said Kendrick "has a great attitude, works hard, and is a great teammate."
Senior Kellen Wittman ties Kendrick for most goals this season. Johnson said the team looks towards Whittman for energy and for scoring in games when they need it most.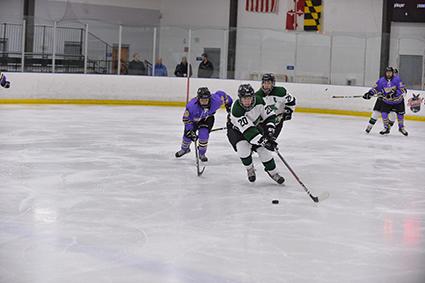 Ally Gibson, also a freshman, brings intelligence and composure to the team by reading the game and creating scoring opportunities.
Sophomore defender Casey Storck has also impacted the team by leading with seven assists.
Senior and assistant captain Maddy Ricci has helped the Mustangs by scoring two important goals over the sweep of Kings College Nov. 30 -Dec.1.
The team and coaching staff are still working to understand each other's play styles. Practices have changed slightly to incorporate more team conditioning and emphasis on shooting for rebounds. Their mindset is to score more goals, not to have a Sports Center Top 10 goal, said Barcless.
Off the ice, the coaching staff is constantly meeting with players to make sure they are doing well academically, and that each player is happy to be where she is. On the ice, coaches encourage communication, which helps the team become more aware of each other and brings them closer as a whole.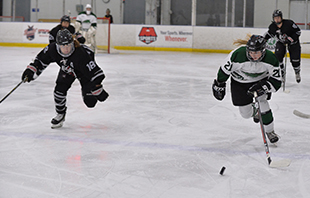 Gibson believes the two wins over Kings College could be a turning point in the Mustangs' season. Gibson said those wins showed the team how they can play and gives them confidence moving forward in hopes of keeping the winning streak alive. She is confident that the team has the ability to continue winning and working hard to reach the United Collegiate Hockey Conference championships.
"We all know what we need to do to turn this season around and get to the finals. It's going to be tough, but I speak for the team when I say we can do it, and are motivated to do it," she said.
In December, the team is traveling to Europe to tour Germany, Italy and Austria. While abroad, the Mustangs will play four competitive international teams. Gibson said the team is excited for this experience, and has set their sights on winning all four games. The goal of the trip is to have fun, play their style of ice hockey, and strengthen their bonds with each other to set themselves up for a successful season on the ice.
The Mustangs' next games are Dec. 7 and 8 at Endicott College.
Sports editor Savana Herndon contributed to this article. 
Donate to Stevenson Villager
Your donation will support the student journalists of Stevenson University. Your contribution will allow us to purchase equipment and cover our annual website hosting costs.