Tips for safe traveling for the holidays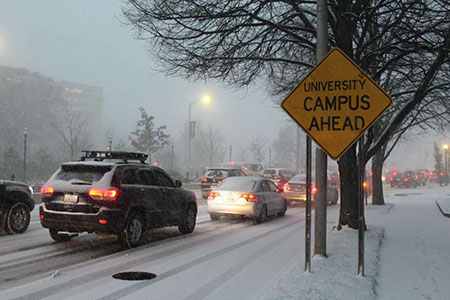 Students who are planning to travel this holiday season should know there are many factors to be mindful of to stay safe.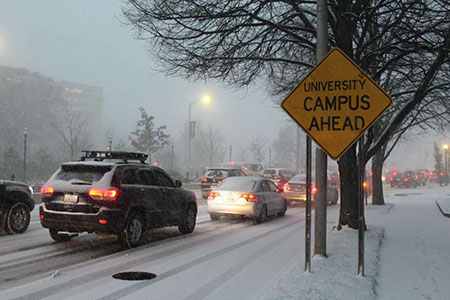 Stevenson University provides services 24/7 to aid students in their safety on and off campus. Stevenson's security staff contributes to the safety of the university's students, but as winter break approaches, it is the students' responsibility to remain attentive when traveling for their own safety this holiday season. Gregory Cullison, director of security at Stevenson, provides some useful tips for students traveling this holiday season.
---
Don't drink and drive.
Don't text and drive.
Don't use drugs or prescription medication that may impair driving.
Obey the speed limit.
Make sure others know what time you are leaving and your intended route of travel.
Try to have at least a half of a tank of gas in your car, in case you get caught in a traffic jam or are stranded.
Leave earlier to not be rushed or drive aggressively (tailgating, weaving in and out of lanes, etc.).
Be well rested prior to driving.
Keep your cell phone charged.
Keep warm clothes and a blanket in your car in case you get stranded due to weather.
Keep your valuables hidden in your car.
These key tips will allow students to avoid dangerous situations or circumstances and be prepared for unexpected events.
---
As a current junior at Stevenson University, Abbey Ports believes students are not aware of their surroundings while traveling due to the influence of various technologies. Whether students are traveling by plane, car, or foot, she said, they should try to avoid using their phones and remain cautious of their environment.
Ports provides her own tips for students traveling this season by suggesting, "When walking somewhere, don't be alone. Be aware of your surroundings by avoiding looking at your phone."
In recent months, Stevenson University experienced several car thefts on campus. This has caused students, including junior Morgan Personette, to take precautionary measures regarding car safety. "After hearing this troubling news, I had a lot of questions for my security and took proactive measures, such as always locking my car door, carrying pepper spray, and always carrying my keys on hand," she said.
Nationwide Insurance notes that another travel safety tip is to be wary of public Wi-Fi. Hackers looking to steal valuable information can access your data including credit card information and Social Security numbers. "If you do need wireless Internet service, set up a virtual private network (VPN) that will allow you to access the Internet securely while traveling," according to Nationwide Insurance.
For further tips on student safety this holiday season, students can visit the security office in Ratcliffe for more information.
Donate to Stevenson Villager
Your donation will support the student journalists of Stevenson University. Your contribution will allow us to purchase equipment and cover our annual website hosting costs.