The Stevenson football team ended camp and are prepared to start their 2019 season. The Mustangs look to take home the Middle Atlantic Conference (MAC) Championship in 2019.
Their journey began on Friday, Sept. 6, when the Mustangs traveled to Boston, (Ma.), where they had a 31-0 shutout win during their season opener against Curry College. New quarterback Ryan Sedgwick, stepping into the vacancy left by graduate Danny Williams, passed for 184 yards in the win. Running back Kevin Joppy ran for 95 yards, and wide receiver Chad Lyles had 8 receptions for 98 yards in the shutout.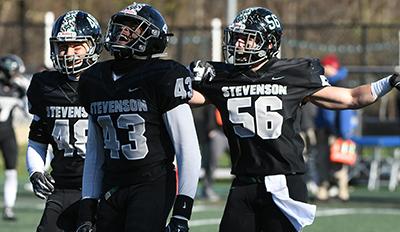 For their 2019 season, the Mustangs welcome a new offensive coordinator, a new defensive back coach, and almost 60 freshmen. According to Ed Hottle, head football coach, "Whether you are looking at new staff or new players, it doesn't matter — the expectations are the same. Our expectation is to win every Friday or Saturday we step out there."
Hottle said the Mustangs will undergo a tough schedule in preparation for conference play. With all the changes regarding coaches and personnel, the Mustangs placed second to Delaware Valley University (Pa.), in the MAC preseason poll. Stevenson's first home game will be on Sept. 14, 2019, against Bridgewater College (Va.), followed by their first conference game a week later, versus Delaware Valley.
The team will focus on paying attention to the little things. Hottle said that work still has to be done for this team to live up to their full potential, even after their first win.
With so many new players and their successful start against Curry, the Mustangs have high expectations for the 2019 season. Both Hottle and junior tight end Deion Mason said the little things and minor mistakes made in the Curry game will become learning points for the rest of the season.
According to Mason, the players used their time during camp to bring the team together before the season began. Every year, the MAC championship is the goal for the team, but Mason took it a step further and has expectations for a national championship.
Coming off a 7-1 conference record last season, the excitement for the game against Delaware Valley is high. The Aggies were the Mustangs' only loss in conference last season.
With the whole season ahead of them, the Mustangs will take each week one step at a time. The Mustangs will face off against Bridgewater College on Sept. 14 in their home opener.