Women's soccer ready for conference play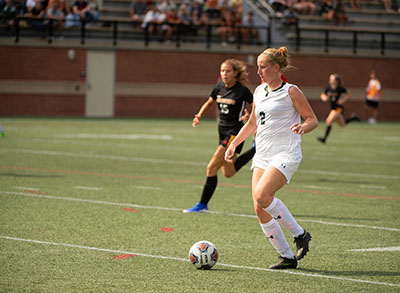 The beginning of the fall semester brings the kickoff of the 2019 women's soccer season. Starting in August, the Mustangs have been grinding on and off the field in anticipation of this year's competition.
Head coach Tati Korba, entering her third year at Stevenson, is excited for this season.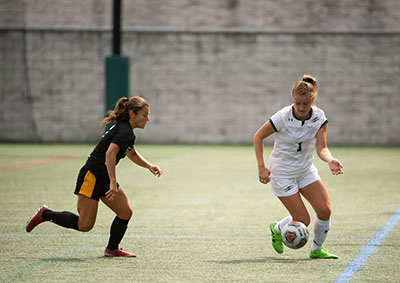 "We are certainly playing better soccer than we have in my time here. The returning group came back technically much better and our freshman class is a really impactful class," Korba said.
The squad graduated just two seniors, which means the returning team is full of depth and experience. With a new group of freshmen, it is important that the returnees welcome them with open arms and make sure they buy into the team mentality.
"The basis of this program is our team culture. We want to create a culture that drives players' behavior and then behavior is what produces results," said Korba.
Sometimes it is difficult for student athletes to juggle both school and sports. Junior midfield Bridget Heist said her strategy for managing both is taking advantage of her off-days. "I use Sundays to get as much work completed as possible so that I am not completely stressed the rest of the week," she explained.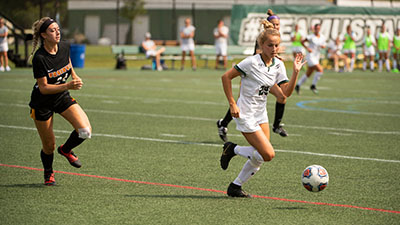 To aid in time management, the first-year players have required study halls for their first semester in order to help them get acclimated to rigorous college work.
"We have over a 3.4 GPA as a team," said Korba, "and a quarter of our team are nursing majors. It's kind of the culture that they all stick together while practicing, eating dinner and studying."
The Mustangs opened up with a 2-1 overtime win over Mount Aloysius College. Since then, their record is 1-4-1 although they have not yet started conference play. One-goal losses to Ursinus College, St. Mary's College (Md.), Elizabethtown College and McDaniel College, and a tie with Catholic University in double overtime, have given the Mustangs a challenging start.
"Certainly, we'd love to be 6-0 right now," said Korba, "but we've played some really good soccer and we are happy with where we are."
She added that the season so far has allowed them to identify blind spots and problem areas. Going forward, they are addressing issues and improving game to game in preparation for the highly anticipated conference play.
"I'm most excited for conference games this year. Those matter the most in order to lengthen our season and keep playing soccer," said Heist.
Conference play starts Oct. 5, when the Mustangs play the Albright Lions at 5 p.m. at the Mustang Stadium.
Donate to Stevenson Villager
Your donation will support the student journalists of Stevenson University. Your contribution will allow us to purchase equipment and cover our annual website hosting costs.