The Office of Residence Life at Stevenson University began the 2019 fall semester with two new resident directors.
Jessica Goddard and Amanda Strain were both hired over the summer break. Both had different paths and reasons why they decided Stevenson was the place for them.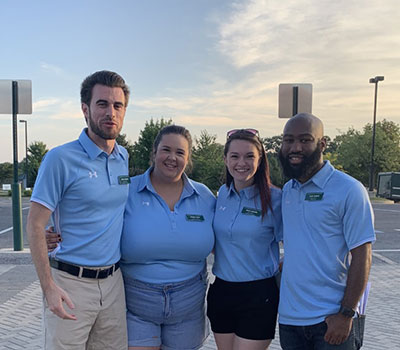 Goddard was previously a resident assistant in undergraduate housing. Transitioning from that, she became the student director of the Multicultural Resource Center and a resident director at Buffalo State College.
For the first time, Goddard is far away from home. Originally from upstate New York, she was ready for a change. Her experiences, challenges, and hobbies allow her to connect with students on a different level than just resident director and student, motivating her to come to Stevenson.
Goddard added that, for her, "the people sold it." She previously worked at both small, private institutions as well as large, public ones. She chose Stevenson because of the level of control compared to a larger school. Goddard described how "the degree of quality of the staff and RA's spoke very loudly," and helped sell convince her to accept the position here.
Outside of work, Goddard enjoys photography. Wedding photography in particular has helped her develop skills to handle crisis situations. Art and photography are her passion, but aside from that she is also a runner and loves cats.
Prior to her joining Residence Life at Stevenson, Amanda Strain was a community assistant in her undergraduate years at Bloomsburg University. She was also a graduate hall director at the same institution for graduate school, and a staff member in the dean of students office.
Just like most of the students, staff, and faculty on campus, Strain recalled how Stevenson made her feel at home when she talked to then-director Sarah Mansfield and another resident director on campus. "Stevenson is a home away from home," she said, "especially for students."
Strain described how she did not have the best experience in college and the residence staff became good mentors, getting her through her college years. Through this, she explained, residence life became her passion. "I truly do care about the students and the work that I am doing," explained Strain.
Aside from wanting to help students as much as she can, Strain has a passion for photography and dance, which she hopes to continue. Since she is a Philadelphia native, Strain is also a huge Eagles fan.
Being new, however, can come with its challenges–in any job, not just residence life. Both noted how in these past two months working here, everyone has been very welcoming, making it easier to transition into a new position at a new institution. Goddard added that the connections she has made with everyone at Stevenson have showed her the level of care here.
Strain looks forward to building her confidence as a first-year professional. She said that she is excited to get to know the institution more and experience personal growth. She is looking forward to working here but is also hoping that it will help prepare her for the next chapter of her life.
Like her coworker, Goddard also is looking forward to being more confident, finding what direction she wants to follow, and being prepared when that time comes. However, she is also excited to continue building connections with students, staff and faculty members, as well as advising some of the clubs offered on campus.
Goddard and Strain recalled how much fun they have already experienced in their short time at Stevenson, and are pleased that their position is not only giving them the chance to grow, but also allowing them to be themselves and have a good time.
Through their positions in residence life, Goddard and Strain have found a stepping stone to help the community and learn more about student life and student affairs. Both directors want to take this next year and see what Stevenson has to offer as they get to know the community. Since this is their first professional job after college, they each have hopes for this year and the rest of their time at Stevenson.