Career Chats provide information for future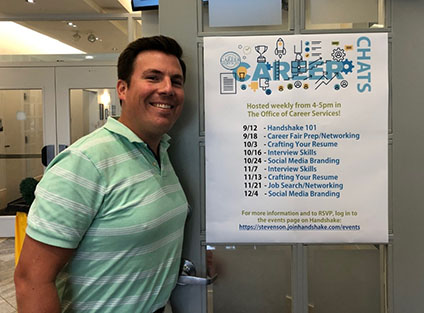 Starting in September, Stevenson's Office of Career Services is offering weekly informal events called Career Chats to give students the tools and skills to advance their careers during and beyond school.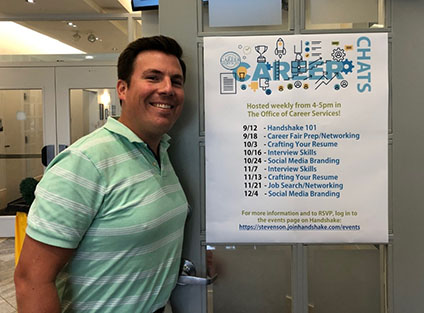 These events are casual conversations between students and Career Services staff members to discuss a variety of career development skills including career fair prepping, networking, and crafting a resume. Career Services' vision for these chats is to increase students' awareness about themselves and learn how they can better market themselves for a career after graduation, according to Matt Seiler, assistant director of employer relations..
Career Chats will also be a tool for the Career Services staff to develop and foster more intimate relationships with and among students. Career Services also hopes to offer support for any career goals students may have.
"It's [about] skills they would use in the career field, and it opens it up to have the students chat more among themselves to help each other learn, instead of just hearing from us," said Seiler.
Career Chats are hosted weekly from 4-5 p.m. in the Office of Career Services. Snacks will be provided at each meeting, so students should come ready to enjoy some treats while discussing real-life strategies for success . Students can sign up online or drop in after their classes.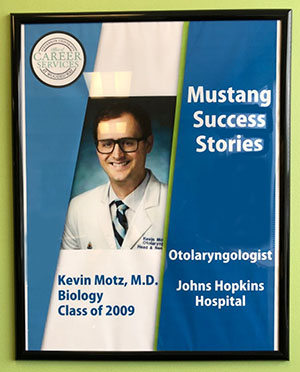 "This is an opportunity for students to get the additional support that they need," said Kelly Fewster, a career advisor. "If there is something students need help in, theycan choose what topic they want to learn more about, and it's open to undergraduates, graduates, and alumni."
Many students who use Career Services have success stories of making it into their dream jobs, which enforces Career Services' slogan, "Connection to Career."
Students have become Social Security administrators, have been placed in Washington, D.C. programs, and have experienced a number of other career accomplishments, according to information gathered by the Office of Career Services. Kevin Motz, M.D., who graduated from Stevenson University in 2009, used Career Services and is now a otolaryngologist at Johns Hopkins Hospital. Lauren Novsak, who graduated in spring 2019 from Stevenson, became a nonprofit service coordinator at Business Volunteers of Maryland.
If students want to participate in Career Chats or learn more about  the support Career Services offers, they can visit the events page on Handshake.
Donate to Stevenson Villager
Your donation will support the student journalists of Stevenson University. Your contribution will allow us to purchase equipment and cover our annual website hosting costs.