Stevenson University will host a Fall Career and Internship Fair, open to current students and alumni, on Oct. 2 from 2:30- 4:30 p.m. in the Rockland banquet room.
This is an event where attendees should be dressed professionally or in business casual wear. The fair will have a maximum number of 44 organizations looking for new employees and interns.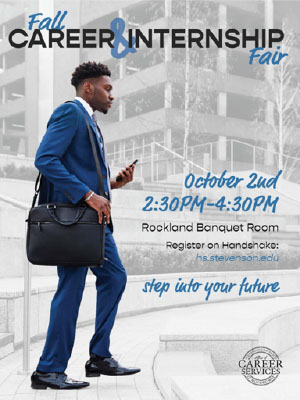 In the past, the fair has allowed students to land jobs from organizations such as the FBI and the Baltimore Orioles, as well as nursing jobs from John Hopkins Hospital. The internship section of the fair is fairly new, having been added last year, making the event more attractive to students who are not yet looking for a career.
According to Matt Seiler, a Stevenson alumni and the assistant director of employer relations in the Office of Career Services, said that it is very important for students to treat this fair like a job interview and do whatever they can to stand out to the organization. Having been in charge of the fair for three years, Seiler recommends that students bring a hard copy of their resume even if they already posted it on Handshake or emailed a copy ahead of time.
He also advised students to check on Handshake to find out which employers are coming to the fair, and then to research more information about those companies to have an understand what the company does before they attend the fair.
"One of the biggest feedback I get from employers is that the students are great, but we had a lot of them come up to our table who had no idea what we do," said Seiler. Having information on the company beforehand can become a great conversation starter and employers appreciate the extra homework that a potential employee or intern did, he added.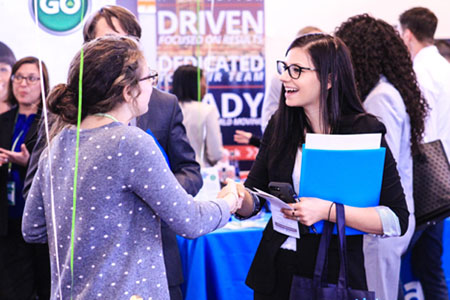 Jean Turner, a retired human relations worker for 26 years at Group Benefits Services and Erickson Living, now consults with Stevenson students. From past experience as hiring manager during her career, she said she specifically looked to see if applicants had met all the requirements with an easy-to-read resume that detailed the necessary experience and skills.
Turner now meets with current and former students at Stevenson to review resumes until there are no longer any errors and also conducts mock interviews with students to provide critiques and feedback. She can help prepare students for the fair from having experience as an employer, and encouraged students to look for internships that can often lead to a job.
An accounting major, Ryan Nowicki, was offered a job through the fair. Students who are unsure about attending because they do not see a company that targets their major should consider attending anyway, because students may not know whom the company is looking to hire.