It has been two years since Stevenson University created a platform for eSports teams. Now, there are two teams who are making big leaps in the collegiate eSports world.
Stevenson's current teams who compete in tournaments are "League of Legends" and "Overwatch." Recently, both teams were invited to compete at the Harrisburg University eSports Invitational (HUE Fest). Harrisburg hosts this event every year, and the school is well known for its eSports teams. Stevenson's "League of Legends" team competed against 25 other schools and earned 13th place in the tournament. The "Overwatch" team competed against 18 schools and ended up in the top eight for playoffs.
At the invitational, teams for each game are separated into round robin pools, which are similar to a bracket system. The teams play against everyone within their pool. Then, they rework the pools and separate the top eight winners and losers into their own respective brackets.
"Overwatch" damage per second (dps) player Christian Caswell said, "The experience definitely was a confidence builder. We ended up doing a lot better than we expected and it gave us a lot of hope for the future. With more practice, we may go even further next time."
Eric Williams, also an "Overwatch" dps player, said that the best parts of being on an eSports team are the experiences. During HUE Fest, the "Overwatch" team had the opportunity to play on the main stage. Williams said, "It's a lot of work and it can get really intense."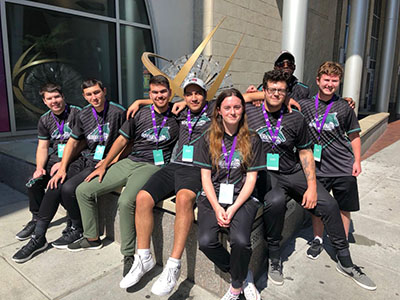 These players want it to be known that eSports is the same as playing a physical sport. Both teams practice every week on Monday, Wednesday, and Friday for three hours. Players are also expected to play at least two and a half hours every day outside of their scheduled practices. Williams said, "eSports is not a bunch of people playing video games. It's like a club sport; we have a team, and it's people-oriented. We are just like every other sports team and we are trying to make a name for Stevenson."
These teams look forward to competing at the Tespa Collegiate Series and the Eastern Collegiate Athletic Conference. In addition to the "League of Legends" and "Overwatch" teams, Stevenson plans on adding three teams: "Rocket League," "Counter Strike: Global Offensive," and "Hearthstone."
The "League of Legends" and "Overwatch" teams frequently stream their gaming on the SU eSports Twitch channel, found on gomustangsports.com. Those who are interested in joining one of the teams can sign up during the beginning of each semester. The process for joining an eSports team is the same for joining any club sport. Students have to fill out paperwork, complete a physical, and demonstrate their knowledge of the game.