At Stevenson University, members of the Office of Campus Security have a unique appreciation for students. Security officers from a variety of different safety backgrounds offer all the tools necessary to keep the Stevenson community safe.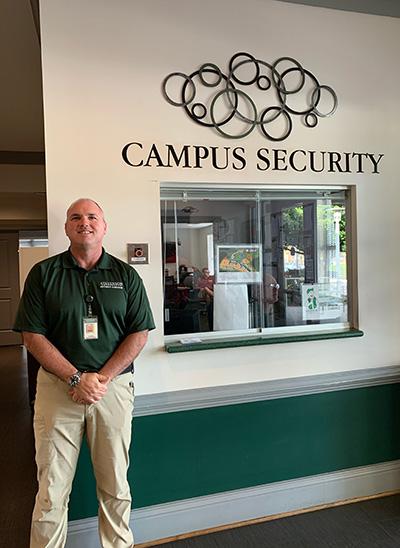 Greg Cullison, director of campus security, leads a team of over 50 security officers, all of whom have police, firefighter, paramedic, or military backgrounds. Cullison said he only looks to hire candidates that have a first responder background, which is what makes campus security at Stevenson so special.
Cullison himself retired as a lieutenant on the Maryland State Police after 28 years on the force. He is not the only member of campus security who has an esteemed police career.
The daytime Supervisor of Campus Security, Steve Gossage, spent over 34 years on the Baltimore County police force, before retiring as a lieutenant. According to Gossage, his work as a Baltimore County police officer placed him on the front lines of the Baltimore riots of 2015.
Gossage's resumé goes even deeper, as he described working for special teams within the police force, including the Crash team and the Mobile Crisis team. As a member of the Mobile Crisis team, Gossage said he had the opportunity to de-escalate situations with mental health patients who were experiencing crises.
Both Cullison and Gossage provide a lifetime of experience in the field of service, but that's not all that these campus security officers pride themselves on. Creating, building, and maintaining relationships with students is an initiative that all of campus security prioritizes.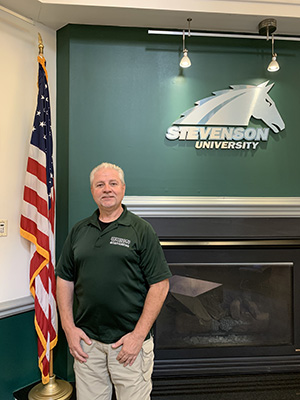 A core value of any one on the security team is devotion to duty and the inclination to always help, according to Cullison and Gossage. Gossage says it's an educational process with students– little things such as teaching a student how to change a tire or other simple life tasks are ways in which security can help around campus.
Meanwhile, Cullison has been hard at work talking to Stevenson's Student Government Association president, discussing ways in which campus security and the Stevenson student body can foster stronger relationships. Cullison believes everyone is a part of Stevenson's security, not just the members of the Campus Security staff.
Continuing to grow the relationships between campus security and students at Stevenson is a transactional concept. Cullison and Gossage speak strongly about being proactive and engaging students, but added that students must be willing to do the same.
Liam Walsh, a current Stevenson junior, said "I understand having a relationship with those keeping us safe is important, but it can be intimidating when they also administer violations to us."
Cullison understands the apprehensiveness of students about building a relationship with him and his staff, but stressed that campus security is here to help, not to continually hand out violations.
With a staff providing experience and knowledge, along with their consistent efforts to build a transparent relationship with students, campus security at Stevenson is here to keep the community safe.