Stevenson field hockey has gained momentum going into conference play after earning a 1-0 win against unbeaten St. Marys College (Md.).
Junior Brooke Morris scored the lone goal for the Mustangs on Wednesday just 1:30 into the second quarter, and was one of six goals let in by the Seahawks this season.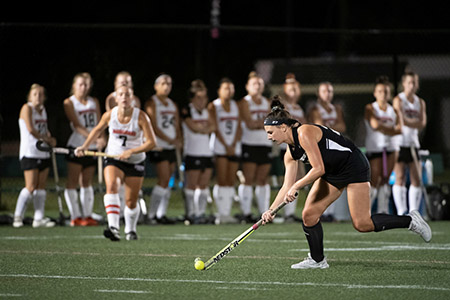 Head coach Laurel Martin knew that the current team could demonstrate great physical skills, but, she said, "they need to free up mentally to play with passion and more spirit." The coaches decided to do something different after facing adversity early in the season.
This "unconventional practice" occurred two days prior to the team's first conference victory against Arcadia University on Sept. 28. That practice had two goals: mental growth and the establishment of goals for the game against the Knights. Inside the team room, the players studied Arcadia's playing style in order to create new corner runs and ways to move the ball down to the goal, said Martin.
Martin devised a plan in which each player would select a random number to come outside of the team room blindfolded, beginning the mental exercise as the activity continued inside. All coaches and managers were involved on the field for the mental trust exercise for the players.
Coaches then asked the players, "Do you commit to putting the team before yourself? Do you trust your teammate, coaching staff, managers and, most importantly, yourself? Do you commit to taking more risks?"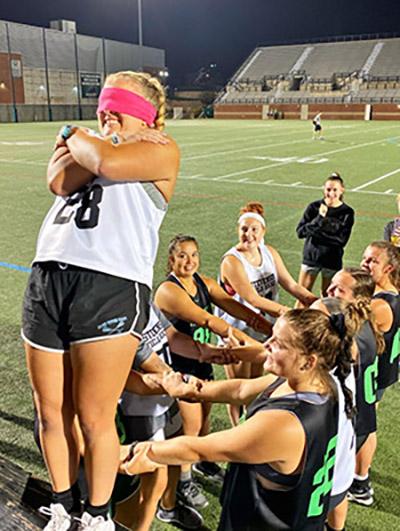 Every player agreed and reignited their passion for the sport. The Mustangs carried this united passion into their win against Arcadia.
Senior captain Kelsey Eure believes there is a sacrifice and time management component when it comes to being a student athlete. In season, Eure said, "it's worth it to be with my team even though I can't go home every weekend. My team is basically my second family." Junior Olivia Lewis also understands the difficulty of time management between practices and games.
The team voted Eure and Ashli Glatfelter as captains, and Lewis said that during her freshman year these players showed positivity, great confidence, and an abundance of leadership skills.
Moving forward, the Mustangs will put their trust in each other and confidence in the team as they head into the final games of conference play. Their next home game will be on Oct. 12, against Messiah College at 1 p.m.
Editor Melanie Parncutt contributed to this article.